Adobe Creative Cloud Arrives on Android with Stock Photos
Adobe released their suite of mobile Creative Cloud apps on Android this week and introduced Adobe Stock Photos, a new service for photographers to sell photos and for graphic designers to buy photos for their projects.
Adobe updates their Creative Cloud suite of apps and programs each year about this time. They add new features to the desktop programs and last year launched some amazing new apps that only ran on iOS. They promised Android versions of these cool mobile photography and creative apps and this week they finally fulfilled the promise with a few new apps.
Here's the iPad version of thew new Adobe Photoshop Mix, that now also works on Android.
New Adobe Mobile Apps on Android
Android phones, like the Samsung Galaxy S6 and Samsung Galaxy S6 Edge come with such great cameras that more that ever before mobile photographers use their phone's camera instead of a point-and-shoot or advanced compact camera. Some have even replaced DSLR cameras with phone cameras. A talented photographer can produce amazing shots on their phone. Thanks to Adobe's mobile apps, they can begin the editing workflow on the phone or on a tablet or make use of their photos for things like Photoshop brushes or color palettes.
The following apps all come free and open up some incredible productivity features on mobile when connected to a Creative Cloud subscription.
The other Adobe apps available before this include:
Photoshop Express – simple photo editing on Android
Adobe Lightroom – organize and edit photos and sync them with the desktop version of Lightroom for a seamless workflow o mobile to laptop/desktop photography
Other Adobe Apps – the page of Adobe apps on the Google Play Store
Adobe Stock Photos
Adobe also announced a new subscription service for stock photos. Adobe Stock Photos provides a place for photographers to sell their photographs and gives designers and creative pros some quality stock images. Go to stock.adobe.com to begin searching the library of photos, vector drawings and illustrations.
Stock photos gets integrated into Adobe Creative Cloud applications with an update to the Mac and Windows versions of the apps. For example, to search Adobe Stock Photos from inside Photoshop, choose File and then Search Adobe Stock.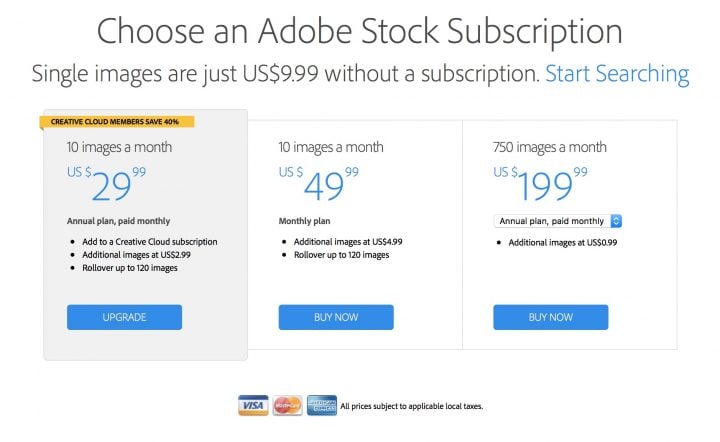 Adobe Stock Photos sells images for $9.99 for one image or in subscriptions. They also offer subscriptions for $29.99/month for up to 10 photos per month. If the user doesn't download 10 photos, they can roll the remaining unused credits to the next month up to 120 images. To buy more images pay $2.99. This requires an annual plan. Customers who may not want to commit to an annual subscription can get one month for $49.99 and $4.99 for more images each month. There's also a plan that gives the subscriber 750 images for $199.99 for one month and extra images for $.99.
Photographers who sell their images will get 70% of the amount Adobe gets for the image. If someone buys a single photo for $9.99, the photographer gets about $7. A photo sold under the $49.99 plan (about $5/photo) gives the photographer about $3.50. A photo sold for $.99 as an extra image in the $199 plan earns the photographer about $.70.
Adobe Creative Cloud Subscriptions with Adobe Stock Photos
Adobe Creative Cloud subscriptions start at $9.99/month for students photographers who want to use Adobe Photoshop and Lightroom only. They can use their Android phones or tablets to streamline their workflow now. The photographer's bundle costs $19.99/month for non-student photographers. The full suite costs $19.99/month for educators and students and $49.99/month for all others. Add an Adobe Stock Photos subscription to the full suite for $79.99. This gives users what they'd get for $49.99/month without a Creative Cloud subscription, saving subscribers $20/month.