Adobe Flash 10.2 Won't Make it in Time for Xoom Launch
The Motorola Xoom, which will usher in an era of Android 3.0 Honeycomb tablets, will launch without Adobe Flash support. However, according to the Verizon teaser page for the Android 3.0 tablet, the Xoom will be getting its dose of Adobe Flash in Spring 2011, or shortly after the slate's launch.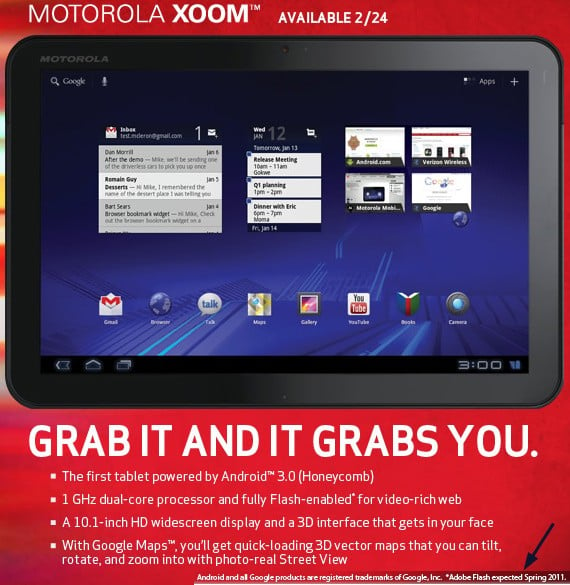 In the past at Mobile World Congress, Adobe had stated that Android 3.0 Honeycomb would be the minimum requirement for Adobe Flash 10.2. The next update to the Flash plug-in standard would allow Adobe to take advantage of the hardware capabilities through hardware acceleration, which would exert less strain on the tablet's CPU and could help to lengthen battery life. However, Adobe Flash 10.2 requires certain modifications and changes to Google's mobile operating system that's only present in Android 3.0 Honeycomb, hence the Honeycomb requirement.
Motorola has since confirmed that Flash won't be present on the tablet at launch:
"Motorola XOOM will include full support for Adobe® Flash® Player® for accessing the rich video and animations of the web, to be available after launch."
Google is boasting Flash support on its Android tablet as an advantage over the iPad. Apple CEO Steve Jobs have shunned Flash support from the company's iOS ecosystem, citing that Flash is resource intensive and would severely diminish the iPad's battery life. Instead, the company has poured support into the HTML 5 standard, which delivers many of the interactive Web features that Flash offers. With Flash gone, Apple has created its own advertising platform on HTML 5 called iAds, which could be indicative of the company's motives for shunning Flash.
It's unclear though if the Motorola Xoom tablet could take advantage of Adobe Flash 10.1, which is a freely available plug-in on Google's Android Market app store, in the interim before Adobe Flash 10.2 Mobile launches for the platform.
Via: Engadget

As an Amazon Associate I earn from qualifying purchases.