Adobe Slate: a Beautiful New Presentation App for iPad
Adobe released another iPad app for telling stories visually. Adobe Slate takes photos and ideas and puts them together in a visually beautiful story telling format that makes PowerPoint or Keynote look old-fashioned. The app takes the same approach as Adobe Voice, but instead focuses on images and text. Adobe Voice uses a person's spoken word recording and adds visuals to tell the story. Adobe Slate takes photos and makes a professional looking layout easy to make.
Adobe wants to help the creator stand out in the noise of our information culture. So many signals or bits of information strive for a person's attention that it's hard to get a story seen or noticed. Adobe Slate, and the older cousin Adobe Voice, gives the common person the glitz or polish that only professional designers could realize before using more expensive tools that take a lot of time to master. Slate helps the common person share their ideas in a more professional way without the time or talent required to create a similar presentation, at least that's Adobe's promise.
Use Adobe Slate to show off any information that might normally show up in a PowerPoint slide show and share with coworkers, turn it into a teacher for a school project, or communicate ideas to your organization. The resulting projects will work on an iPad, but users of other devices can see them too. Just fire up the web browser and go to the Slate story page from a link shared to Facebook, via email or on a website.
The Adobe Slate Workflow
Create an Adobe Slate Story by signing into an Adobe account or signing up for one. Create a new story in the app and then add things to the Slate. Publish it and share it widely.
To add new content use the buttons on the upper right corner of the toolbar. These buttons let the user choose their theme, preview the story and then publish it.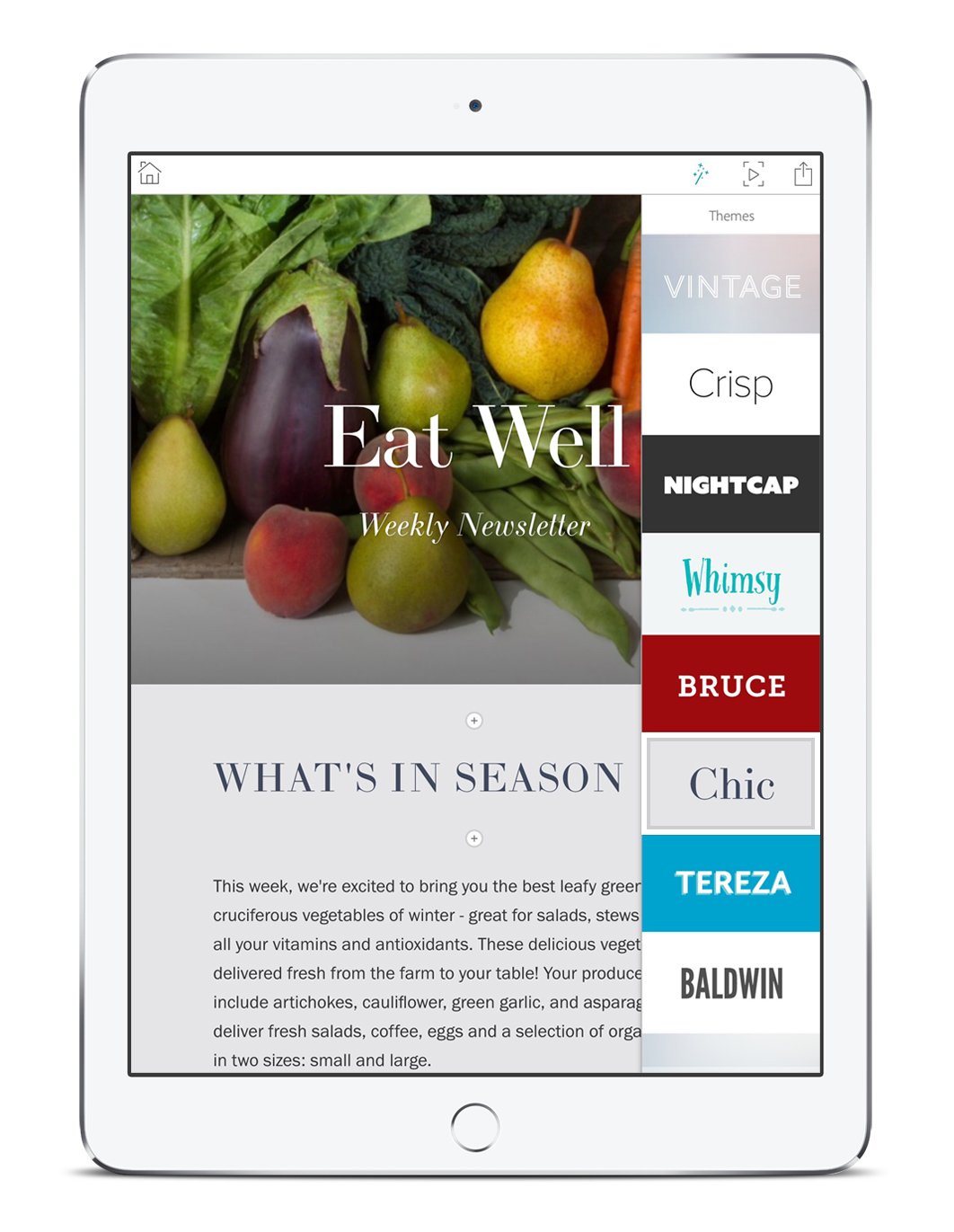 Change the Slate story theme by tapping the magic want button (see below). This will give Adobe Slate Store creators professionally designed templates or themes to use. A theme will include layouts, fonts and transitions from screen to screen which the Slate story viewer will see by scrolling vertically through the story. The themes we've seen in prerelease examples look beautiful. This should make creating an impressive presentation easy and fast.
The play button shows the story letting creators preview their Adobe Slate story. Slate stories scroll vertically in a smooth series of transitions. Parts of an image will slide up while text stays put. See an example of a Slate story at Adobe.
When the creator feels like their Adobe Slate story looks finished, the person can tap the publish button to share the story. This saves a story to an Adobe site. Users can share it on social media or get a link to give it away via email or a website.
Adobe Slate stories include a cover image, like the screenshot above. The user can move content around on-screen so that the titles and text don't cover important elements in a photo. The themes help people change one element without making the story elements look unmatched. The typeface and animation provide subtle looks so the animations don't take over the presentation like we get with ugly PowerPoint or Keynote presentations.
Call-to-Action buttons inspire story viewers to follow links to other websites. Add a link to an online store for commercial purposes, a non-profit site to accept donations, or online information to get more context about an included idea.
Unlike a PowerPoint or Keynote slideshow, Adobe Slate Stories work with nothing more than a browser. This makes sharing easier with less friction to recipients of a Slate story. The viewer doesn't even need to log into an Adobe account to see a Slate story.
The built-in iOS 8 sharing function takes the Adobe Slate story link and puts it anywhere you want using apps on the iPad or iPhone.
Cost and Availability of Adobe Slate
Adobe Slate costs nothing. A user doesn't need an Adobe Creative Cloud subscription, which Adobe sells for $10-$50/month. Creative Cloud lets users rent Adobe's more powerful software like Photoshop or Acrobat, and their online services, like Behance. Neither the user nor the story audience needs to pay to use Adobe Slate.
Download Adobe Slate from the App Store on an iPad or iPhone starting today.