Alltel Limited Launches KPad Tablets For Ghanian Market
Ghanian entrepreneur and prince Kofi Kludjeson recently introduced some new tablets to the country that "will serve as Ghana's answer to the iPad" according to CP-Africa. The KPads range in size from 7 inches up to 10.1 and run Android and Windows. Kludjeson's company, Alltel Limited (not to be confused with Alltel…), will sell them to customers for 75 Ghanaian Cedis (around $43) per month for three years, making them 2,700 GH₵/$1,548 total.
That seems like quite a hefty price for Wi-Fi only tablets with the specs they have (more on that below), but remember that the prices Americans pay are often lower than in other countries. And Alltel seems like a small operation relative to the global corporations that deliver most of our devices.
Alltel's goal is to increase the number of Ghanians with access to and knowledge of computers, both on the consumer side and in business or institutional settings.  Thus they're selling the tablets with the monthly pay scheme in order to keep them affordable. Still, Kludjeson says that the reach of these devices will probably be around 1% of the populace.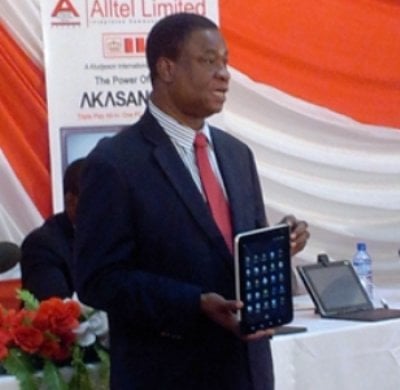 The K-7, K-8 and K-9.7 tablets each have Android 2.2, sport a resistive touchscreen, and run on Marvell or Freescale ARM CPUs clocked under 1 GHz with 256-512MB of RAM. Not exactly the most powerful tablets in the world. However, they do include Bluetooth, Wi-Fi and GPS plus cameras. The K-10.1 is a Windows 7 tablet with a dual-core Intel Atom N455 CPU under the hood. It looks much thicker than the others and promises a cooling system for the non-ARM, non-tablety processor inside. Though it only has 32GB of internal storage, the rest of the specs seem fairly decent: Wi-Fi, Bluetooth, 3G, webcam, 3-in-1 card reader, VGA, HDMI, Ethernet, and a multitouch display.
Each tablet also comes with a leather keyboard case and stylus (useful for the resistive screen).
According to Technesstivity the KPads are "produced in partnership with ZTE Corporation, China and Hughes Corporation," which likely means those are the ODMs for the actual tablets.
In addition to selling the tablets, Alltel is also setting up training centers in each district plus programs aimed at getting the KPads into the hands of healthcare providers and education professionals. Eventually he hopes to set up manufacturing centers so that the company can make the tablets locally.
Though KPads don't have the most stunning specs I've ever seen, as long as they work owners can derive a lot of benefit from them.