Alto's Adventure Android Release Date Arrives
The extremely popular hit mobile game Alto's Adventure is finally available on Android, and it's free. The game has seen huge success on iOS and is loved by millions of iPhone users, and last week the company confirmed that today, February 11th it will be available in the Google Play Store.
In Alto's Adventure users enjoy and endless runner style game where players must snowboard down big mountains while cutting around obstacles to collect llamas, perform wild stunts, avoid elders and collect coins. Which then let you unlock upgrades and new characters with special skills.
Read: 12 Alto's Adventure Tips & Tricks
Since being released on iOS for iPhone, iPad and iPod Touch users in 2015, Android users have patiently been waiting for it to be released. Then, the developers teased an Android debut back in September, which made more potential players even more excited. The wait is over, and it's finally here.
Alto's Adventure is a simple yet elegant endless runner style game unlike anything ever released. Players enjoy snowboarding through some beautiful and clean graphics, and the game has a lot of fans simply based off the soundtrack, it's that good.
Last week the developers released a video and confirmed the hit mobile game was finally coming to Android on February 11th. To make things better it's completely free, rather than $2.99 like on iPhone. That said, there will be a few in-app purchases where the team can earn money, but the game is 100% playable without spending a dime.
Apparently due to a large amount of piracy that plagues the Android platform, the developers decided to make the game free so everyone can download and love this exciting title, but can pay for things in-game to level up faster. We're hearing it will be the same overall as on iOS, but the Android port will include opt-in video ads, or a single in-app purchase that will double the number of coins you collect. This is where they'll make up the difference, without worrying about piracy or users passing up the excellent game due to a high price point.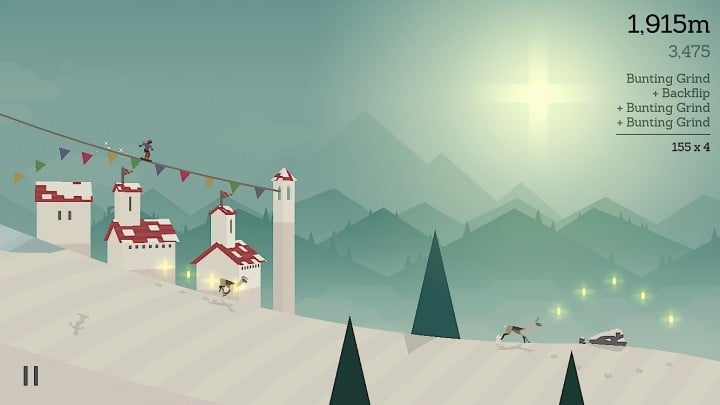 Today, February 11th Android smartphone and tablet owners can head to the Google Play Store and get it completely free, and enjoy all it has to offer. From grinding down roof-tops, saving up for the batsuit, and much more while collecting llamas and more.
This isn't the first time we've seen a paid iOS app release on Android for free, but this is a big title with lots of fans, and plenty of Android users dying to play it on their other devices. We've been waiting for it since the first Alto's Adventure Android release teasers back in September, and I've been playing it all morning since it became available to download.
Get it from the Google Play Store right now, and check out our tips and tricks at the top of the page for more details. They will help you in every aspect of Alto's Adventure, and become the best snowboarder on the mountain.