Aluminum-Clad Sony Xperia Z2 Leaked Amidst Galaxy S5 Rumors
It looks like Sony is prepping a flagship smartphone to debut in 2014 to take on Samsung's Galaxy S5. At a time when Galaxy S5 rumors are at a high, Sony's Xperia Z2 leaks are now beginning to take shape depicting a smartphone with a premium aluminum design.
A few days ago, there was a report on the Internet that the Xperia Z2 would have a metal back instead of the glass back used on the Xperia Z1 that debuted in 2013. The switch to metal should make the Xperia Z2 more durable as the glass sandwich design with front and rear glass panels may not be as rugged as some would like. The migration from the glass sandwich to a design with metal sides and rear was taken on by Apple as well when that company migrated from the iPhone 4 and iPhone 4s design to the design of the iPhone 5 and now the iPhone 5s.
Now, over the weekend, we are learning more about the device with its model number of D6503. Thanks to a user on the XDA community and as reported by Xperia Blog, we are learning that the phone will have noticeably thinner side bezels and a display size of 5.2-inch.
Overall, though, the design and button placement of the phone mirrors that of the recent Xperia Z series. The device has the power button, volume buttons, and dedicated camera button on the right spine of the phone.
There is also a magnetic port for docking and charging the phone as well.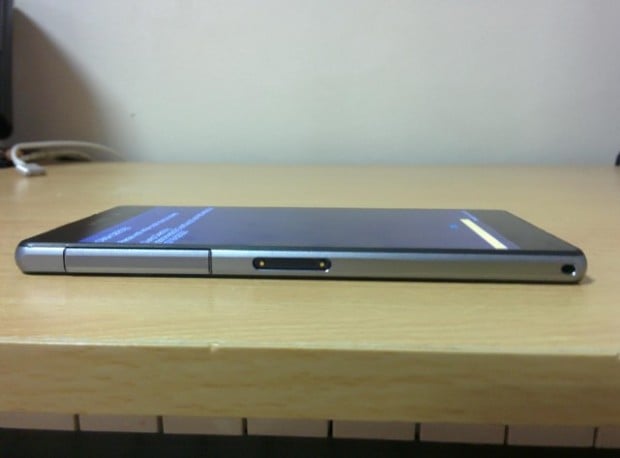 There are still a few questions about the rumored Xperia Z2. At this point, it's unclear if Sony will be using the same 20.2-megapixel camera sensor that debuted on the Xperia Z1 and it's unclear if Sony will be using the Sony G lens for the camera design. Additionally, it's unclear if optical image stabilization, a growing trend with smartphone manufacturers, will debut on the Xperia Z2 this year. Moreover, from the sealed ports and design, it looks like the Xperia Z2 will continue to offer the same waterproof benefits of the Xperia Z1, though this information has not yet been confirmed.

This article may contain affiliate links. Click here for more details.