Amazing Nexus 7 Deal Chops Price in Half
An amazing new Nexus 7 deal chops the price of last year's Nexus tablet in half as Nexus 8 rumors continue to swirl ahead of the fall.
Last year, Google replaced the original Nexus 7 with a brand new tablet that is also dubbed Nexus 7. The new Nexus 7 immediately became one of the best tablets on the market. That was a year ago.
Thanks to its hardware and its updated software, the Nexus 7 2013 remains on the of the best tablets that money can buy. Fortunately, these days, the Nexus 7 comes cheap as retailers look to offload the year old tablet ahead of the fall and a potential Nexus 8 release. With Nexus 8 rumors swirling, we've seen retailers chop the Nexus 7 price down and today's Nexus 7 deal is one of the best.
eBay is currently offering a refurbished Nexus 7 2013, the 16GB WiFi only model, for just $130. While it's refurbished, the listing says that its "re-certified by Asus and packaged in an Asus factory sealed brown box and comes with a Asus 90-Day Warranty." Essentially, the Nexus 7 will look and feel new but it won't be new.
The price is a 43% discount from its usual $230 price tag that's found on the Google Play Store. That's a steep discount and one that consumers will certainly want to pay attention to.
This Nexus 7 deal is one of several that we've seen pop up in recent weeks. And while nothing is confirmed, it could be that these retailers are attempting to offload the Nexus 7 ahead of the fall and the arrival of three rumored tablets.
Rumors suggest that Google will be introducing a brand new Nexus 8 to the world at some point later this year. The device is expected to debut alongside the Android L update, the update that Google showed off for the first time at Google I/O 2014.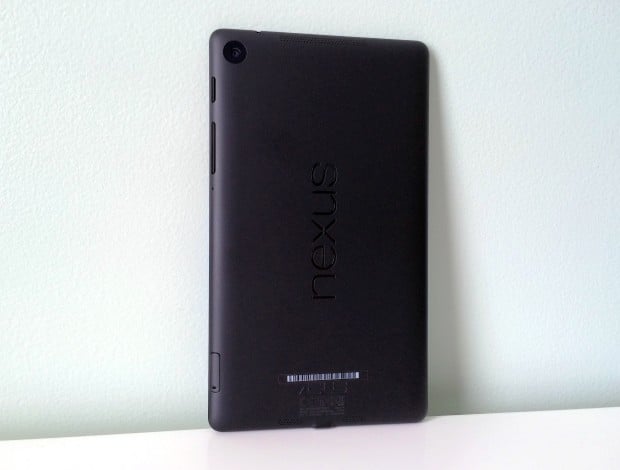 We've seen rumors attempt to pinpoint Nexus 8 features ahead of launch. Nexus 8 rumors point to a high-end device with a zero-gap aluminum unibody design similar to the HTC One, an 8.9-inch 2048 x 1440 full HD display with a 4:3 aspect ratio, 4G LTE, 64-bit NVIDIA Logan 64-bit processor (Tegra K1), 8MP rear camera with Optical Image Stabilization, and a 3MP front-facing camera for video chatting.
Google's Nexus 8 release date remains out of reach though Android L release rumors put the update in October, November or December, Google's usual Nexus smartphone release window. With a Nexus smartphone rumored to be out for 2014, it's possible that the company will instead slot the Nexus 8 in ahead of the holiday shopping season. Nexus hardware always launches with new Android software on board.
It's not clear how the Nexus 8 might fit into Google's current Nexus lineup that currently features the Nexus 7, Nexus 10, and Nexus 5 as its top Nexus products. Google also sells a number of Google Play Edition devices including the 8.3-inch LG G Pad 8.3.
The Nexus 8 will allegedly come with a more expensive price tag, perhaps $399, which would put it on par with the iPad mini with Retina Display and make it far more expensive than the Nexus 7.
Google's Nexus 8 isn't the only tablet rumored for the fall. Rumors suggest that Apple has two brand new iPads up its sleeve for the fall including an iPad Air 2 and an iPad mini with Retina Display or iPad mini 3. Both are expected to feature incremental upgrades from their predecessors with a focus on an A8 processor, Touch ID fingerprint technology and new rear cameras.
iPad Air 2 and iPad mini 3 rumors center on the fall though rumors suggest that the iPad Air 2 could come a little earlier this year. Last year, Apple announced its new iPads in October and released them in November ahead of Black Friday and the holiday shopping season.

This article may contain affiliate links. Click here for more details.