Amazon Firefly on Fire Phone: Cool and Spooky
You have to give Jeff Bezos and Amazon credit where credit is due. Amazon has a mission, and that mission is to get you to shop on Amazon and buy from the millions of products it offers. While Amazon has been venturing into the hardware world of late, it still sticks to that company line with every device it offers. When word first starting leaking out several years ago that Amazon was going to create its own smartphone, the assumption was that it would follow the Kindle tablet line as a mobile device shopping portal. When Amazon announced the Fire Phone today, that's exactly what it delivered. Yes, there are other features that don't necessarily relate to Amazon shopping, but the addition of the service Amazon calls Firefly is all about finding clever ways to make you spend your dollars at Amazon.com.
In fact, the Fire Phone with Firefly looks to be the smartphone that will actually try to take some of the drudgery of shopping out of your hands. So much so that some of the features look like advancements of cool tech we've seen before, but perhaps a bit spookier than we've seen before. Amazon says it can recognize and compare prices on 100 million different objects. And at the touch of the Firefly button the goal is simply and boldly turn your entire life, online or out in the real world, into one gigantic series of shopping opportunities.
But wait a minute, you say. We've had the ability to do price comparisons on our smartphones for quite some time using cameras and scanning bar codes. That's true. That practice is called "showrooming." We've all done it. We see something we want in a store, check the online price on our smartphone and buy it cheaper from an online source. Google Googles is one example of the kind of image recognition that we've seen on smartphones before. And Amazon's own Flow technology was incorporated into its own iOS shopping App awhile back.
Well, apparently the way we've been used to doing this kind of "showrooming" shopping involves too many steps in Jeff Bezos' latest vision. Firefly can take a picture, or listen to a song, or a film or TV show and compare it to the proudly boasted "100 million items" Amazon is waiting to sell you. Amazon is delivering a phone that can take over the shopping experience from soup to nuts. You can shop, compare prices, and purchase your merchandise basically with the push of a button. You can probably buy some soup and nuts that way. From what we know now, you won't necessarily be able to take a picture of your daughter's hair beret and find it on Amazon, but we're going to be closer to that than we were before.
Firefly is almost, but not quite, always on and always listening. And to give you an idea of how important this is to Amazon, there is a dedicated Firefly button on the side of the Fire Phone. In fact, you don't even have to unlock the phone to use the Firefly feature as you can hit the button and snap a picture. When a result is returned you can unlock your Fire Phone to see the info. Snap a picture of something and Firefly identifies it and tells you the price. Listen to a song and Firefly leads you to a purchase. (On Amazon of course.) The same is true with movies and TV. But it isn't just digital media that Firefly works with, it's any range of items. Most know that they can buy just about anything from Amazon these days. And that's obviously Amazon's ultimate goal here.
And with Amazon throwing in 12 months of Amazon Prime for free (new members get their first 12 months and current Prime subscribers get a 12 month extension) Amazon is going to make it quite easy for you to get into or continue buying from the empire that Bezos built.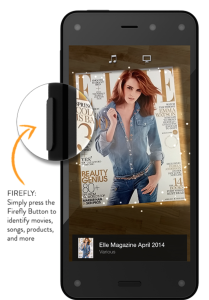 What's also interesting is that Amazon is opening up the Firefly SDK to developers so they take advantage of it within their own Apps. The question will be whether or not we'll see those choices displayed alongside the choices from Amazon when a consumer looks for a result. Amazon discussed several Apps that are taking advantage of Firefly. One of those is Vivino that will release an App which will give you information about a bottle of wine you scan. Another example is the health-focused MyFitnessPal. That app that can determine the nutritional information from a picture of the food in your meal. Instead of manually entering in the nutritional info, that data can flow from FireFly into the App.
And Firefly isn't just for shopping. Apparently you can Firefly anything from an address to an item on a bulletin board, or a magazine, and Firefly technology will allow you to insert that info into your Contacts or other Apps. Snap a picture of a sign with a url and you can go to that website without having to enter the web address.
Note though, that this is all being done by sending that info to Amazon's servers that parses it and then sends your Fire Phone the results. So, Amazon has created a tool to gather even more information about you than just your shopping preferences. Privacy advocates might note that in the Fire Phone debut, Jeff Bezos talked about Amazon using millions of images of faces to train the Fire Phones 3D camera features. It isn't hard to imagine a scenario with Amazon using your photos of just about anything to feed its recommendation engine. (By the way, Amazon is offering unlimited Cloud storage for your photos.) But that's the trade off if you're an Amazon shopaholic and this kind of thing appeals to you.
Retail outlets and big box stores have been complaining for years about the kind of "showrooming" shopping that the Fire Phone will only encourage. It will be interesting to see how they respond to a device that makes the process even easier for consumers. Assuming of course, that consumers actually buy the Fire Phone.