Amazon Kindle DX Unveiled at $489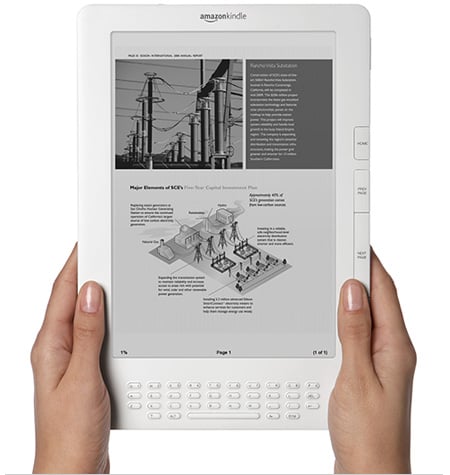 As expected, rumored, and already hashed about, Amazon unveiled the Kindle DX today saying that the Kindle is now a family of devices and that "wireless reading just got bigger." It also stays a bit on the pricey side as the new Kindle DX 2 will cost you $489.
Jeff Bezos took the wraps off the devcie and the features being touted include auto-rotation, native PDF reading, and a promise that you won't have to pan, zoom, or scroll. The Kindle DX will carry up to 3500 books on 3.3 GB of storage. Wireless connectivity will still be the same over Sprint's service. As of the moment none of the new features (PDF support) have been announced for the already released Kindle 2 and the pricing for the Kindle 2 will for the moment remain the same.
As speculated the devcie is also being targeted towards textbooks with five universities () sigining on for this fall. Newspapers are also getting to the action on the larger device with some sort of unspecfiied subsidy offered for the device in return for a unspecified long-term subscription. The NY Times publisher mentioned in his remarks that this would be available in areas where the NY Times is not available for home delivery. So I think there is still some sussing out to be done on what that actually means.
An interesting and humorous note from following the press coverage on line. Apparently the images being shown on the live screen got reversed somehow and Jeff Bezos, showing some grace under pressure said "I'm going to choose to find this hilarious" and kept things moving along until the faux pas was corrected.
The Kindle DX is now available for pre-order and is due to start shipping this summer.   From what I'm reading there are still some details to be learned and I'm sure we'll here more as the days roll on. But the lack of details tells me that this may have been a pre-emptive PR move to get out in front of other things from other companies coming down the pike. Who knows.
All of that said, I think the price is on the high side, but that's my opinion and we'll have to see how it all shapes up in the days ahead.