Amazon Kindle Fire HD 8.9 Price Slashed
Today Amazon lowered the price of the Kindle Fire HD 8.9, bringing the base model of the down to $269.
The 16GB Wi-Fi only model of the Kindle Fire HD 8.9 now costs $269 instead of $299, saving new buyers $30 on Amazon's larger tablet. The same price drop brings the 32GB Wi-Fi only model of the Kindle Fire HD 8.9 down to $299, making it less expensive than the 16GB iPad mini.
The 4G LTE model of the Kindle Fire HD 8.9 has an even larger price drop of $100. The 32GB Amazon Kindle Fire HD 8.9 4G LTE now costs $399 instead of $499, which makes it $100 less than the 16GB Wi-Fi only iPad. The 64GB model of the 4G LTE tablet now comes in at $499, the same price as the current base model iPad.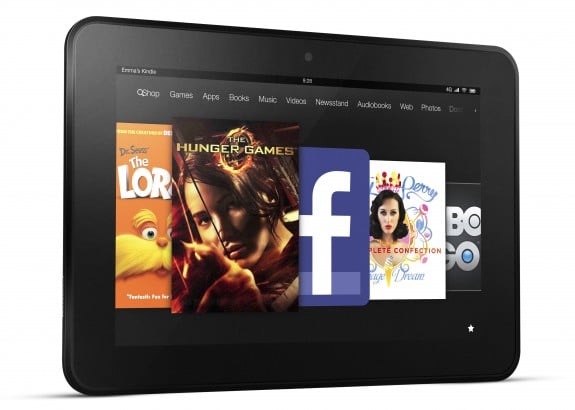 Both 4G LTE models of the Kindle Fire HD 8.9 come with 250MB of LTE data a month for just $50 a year. That 250MB is good enough to check email, download a few Kindle books and maybe do some light browsing. The data plan isn't enough to last most tablet users a full day, however, meaning they'll have to pay AT&T for more data every month.
Amazon's Kindle Fire HD 8.9 sports a high-resolution 8.9-inch 1920×1200 display that can display full 1080p videos with very small letterboxes. Like every other Kindle Fire, the HD 8.9 can access all of Amazon's content including Kindle books, Amazon Instant Video and the Amazon Appstore. Users can't, however, get apps or media from the Google Play Store on the tablet.
Along with the price drop Amazon also announced it will bring the Kindle Fire HD 8.9 outside of the U.S. to Japan and Europe. The tablet is now available in UK, Germany, France, Italy, Spain and Japan. Amazon is still far behind Apple which offers the iPad in a multitude of countries, but it's slowly bringing its devices to more countries.

As an Amazon Associate I earn from qualifying purchases.