Amazon May Finally Release Color Kindle E-Reader Thanks to Latest Acquisition
Amazon has confirmed that it had acquired the Liquavista business from Samsung, a move that could potentially allow the Internet retailer to finally launch an affordable color e-ink Kindle e-reader in due time. Samsung had not done much with Liquavista since it had acquired the company; it was rumored that color e-ink displays based on Liquavista's electrowetting technique would appear by 2011, but that never materialized.
"We are always looking for new technologies we may be able to incorporate into our products over the long term," Amazon confirmed to CNET speaking of the acquisition. "It's still early days, but we're excited about the possibilities and we look forward to working with Liquavista to develop these displays."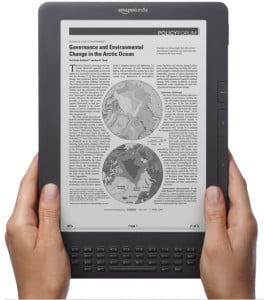 The company did not provide any additional details or a timeline on when a color e-ink display would hit the market.
E-ink displays are employed on e-readers thanks to the technology's long battery life and low power consumption. Additionally, unlike LCD panels that could get washed out when viewed under direct sunlight, e-ink displays are similar to ink on paper and do not get washed out. The addition of color could help expand the appeal of e-readers. Currently, they are popular with casual readers, but textbooks with complex diagrams and images could benefit from the addition of color, as well as magazines, children's titles, and more.
Rumors of a potential Amazon acquisition of Samsung's Liquavista business had popped up earlier this year, and Amazon had been rumored to be working on a color e-reader for some time, but the technology wasn't there to deliver a good experience and the costs were still high.
Liquavista's competitor, Mirasol, developed by Qualcomm, never really took off either. The low power consumption color screen had promised to offer fast refresh rates that were suitable for video, but the problem with these types of displays, especially color e-ink displays, is that they suffered from washed out color production in the past.
Hopefully, Amazon will be able to overcome those challenges and deliver an e-ink based product that satisfies the battery life challenge while injecting color into the screens.

As an Amazon Associate I earn from qualifying purchases.