Amazon Reportedly Working on Two Phones, One with 3D Interface
It's being reported that Amazon is currently working on two new smartphones, one of which will be the company's flagship model, complete with a 3D eye-tracking user interface, and the other one will be a budget device running Amazon's FireOS. The 3D model is codenamed "Smith," and it's said to have four front-facing cameras that can track a user's head in order to provide a 3D UI, similar to iOS 7's parallax effect.
Furthermore, the phone would be able to identify the user so that only he or she would see the 3D perspectives, instead of other users looking over your shoulder. According to TechCrunch, the launch date of the Smith phone isn't known, but it's saying that it certainly won't launch this year.
As for the budget handset from Amazon, reports are saying that it will launch for free off-contract (although past reports have stated otherwise). While this is widely rumored, we certainly wouldn't be surprised if Amazon gave the phone away, as the company has had a history of marking down the price of its hardware and earning back those profits through digital content sales.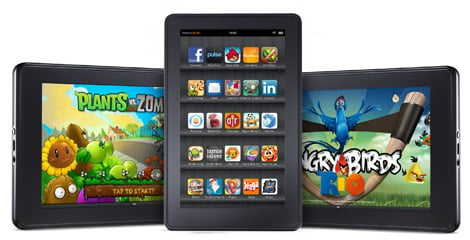 This phone also is rumored to not be launching this year, and it's said to come with a similar user interface to that of the Kindle Fire tablets, which is a modified version of Android called FireOS, which is essentially a walled garden of Amazon's marketplace.
It's not said what operating system Amazon's flagship Smith phone will run, but it's rumored that it'll most likely run a heavily-modified version of Android, considering that the 3D elements aren't stock to Android, and we've never seen anything like that on an OEM build.
Amazon's rumored smartphone has been getting all kinds of attention this year, and it's really no surprise, considering that the company has dove into the hardware market head first, releasing a line of e-readers and full-fledged tablets. The only thing left for the company is to release a smartphone, and now that Amazon has invested a lot in tablets, we certainly wouldn't be surprised by such news.
Of course, if Amazon wants to succeed in the smartphone market, there are a few things it'll have to do differently, since this kind of market is way more competitive than the tablet market that the company is currently fighting in. However, being a giant in the tech industry already, it may not have a problem gaining some quick market share.