Amazon Starts Canceling Some Transformer Prime Orders
Uh oh, we might have a mess on our hands here. According to Android and Me, Amazon has begun canceling orders for the highly anticipated, Tegra 3-powered Asus Eee Pad Transformer Prime, a device that is going to be launching online on December 12th and in stores on December 19th.
The reason for the cancellations? It would appear that Amazon over sold it's pre-order stock and cites a lack of availability from suppliers as the cause.
Amazon advises those with canceled orders that they should go to another retailer to place an order. In this case though, that doesn't help. Most places are already sold out of the tablet.
This situation is similar to the one that happened with the original Eee Pad Transformer launch. Demand was high and supply was low and that made wait times extremely long. It looks like it will play out the same way here.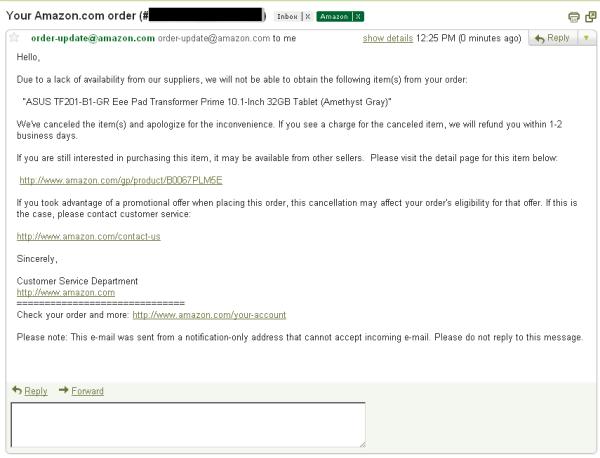 So very obviously, this is a tough situation to be in for those that are seeing their orders canceled, especially since it's the holiday season. Hopefully Amazon or Asus acknowledges that but we doubt they will.