American Airlines Gives Samsung's Galaxy Note Boarding Passes, Equips Flight Attendants With Phablets
American Airlines has selected Samsung's Galaxy Note phablet as the device of choice for use by its over 17,000 flight attendants. The Note will be used because it offers the best user experience in a portable size to allow flight attendants to look up customer information and records, take meal and beverage orders, provide connecting flight and gate information, access flight information for delays and weather reports.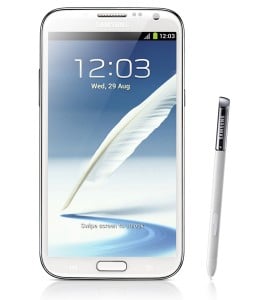 "We're pioneering important new technologies as part of our continued effort to build a new American and return to industry leadership," said Maya Leibman, American's Chief Information Officer. "As we continue to evolve into a more modern airline and explore ways to enhance the travel experience, we are giving our people the tools they need to offer our loyal customers ease of travel both in the air and on the ground."
Previously, American Airlines had partnered with Samsung to offer the Galaxy Tab 10.1 as an in-flight entertainment tool for first class passengers.
Like tablet initiatives for pilots, the Note will also allow flight attendants to carry digital manuals as well with them, eliminating paper. Pending FAA approval, American Airlines says that the devices can be used for food purchasing transactions in-flight.
The Note was part of a pilot program that launched this spring and a full-scale rollout will happen later this year through mid-2013. According to the airline, the Note was chosen because of its 5.3-inch HD display, slim profile for cramped cabin space, and enterprise features as part of Sasmung's SAFE features.
It's unclear if American Airlines will use the original Note for the program or if the company will use a mix of Note and Note II phablets.

As an Amazon Associate I earn from qualifying purchases.