An End to Affordable Power, Will Google Kill Nexus Next Year?
Google's Nexus line of phones and tablets represents an affordable, yet powerful, series of mobile computing devices. However, that may end by 2015 if rumors hold true that Google may be killing off the Nexus.
Eldar Murtazin, who has a mixed track record in recent years with leaks, is saying that Google will be laying the Nexus brand to rest in favor of expanding the Play Edition device portfolio and partnering with more manufacturers.
"Nexus line by Google is over in 2015 ;)," Murtazin tweeted. "Yes – this line will be replaced by Play Edition (current name, it will be rebranded)."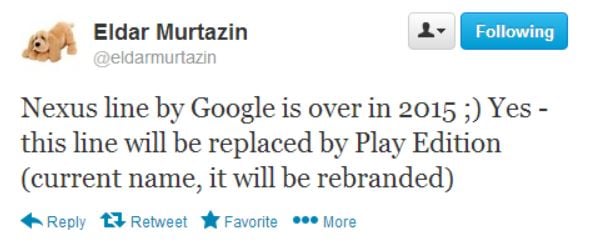 With the Nexus line, Google usually partners with one manufacturer for each product. In the case of the current Nexus 5 flagship smartphone, Google is working with partner LG while it is teaming up with Asus for the Nexus 7 tablet. The selection of a sole Nexus partner–which would work very closely with Google to have the hardware ready when Google announces a new and major Android OS software revision–may create some political conflicts with other Android manufacturing partners that did not get selected. Not being selected may have disadvantages as these partners may not receive assistance from Google nor would they have access to the next generation Android code.
Additionally, as Google is seen as a hardware seller, Android partners may view the Nexus as a product that competes with their devices. Samsung, for instance, may see the Nexus as a threat to its Galaxy franchise. Furthermore, as Google runs the Google Play Store and could monetize the store with additional digital content after a customer purchases the hardware, it does not need to profit on the hardware itself and could afford to sell the phones and tablets at cost. For example, considering that the Nexus is a high-end phone that competes with other $600 or $700 devices, Google is selling the Nexus 5 at the entry cost of just $349, or roughly half the cost of the current Galaxy S4 flagship from Samsung at full retail, unlocked pricing.
Moreover, as Google is embracing the Play Edition model where each manufacturer can release a device without any skins or customizations the the Android UI to the Google Play Store, this would give consumers variety and would level out the playing field so each Android OEM would have a "Nexus experience" device to offer to developers and consumers who don't care for custom experiences that manufacturers often overlay, such as TouchWiz, Magazine UX, the LG UI, or HTC Sense. Motorola, HTC, Samsung, and Sony currently have Play Edition devices that are variants of their flagship Moto G, HTC One, Samsung Galaxy S4, and Sony Xperia Z Ultra models respectively.
It's unclear what branding Google will settle on if it does decide to kill off the Nexus brand in favor of a more expanded Google Play Edition portfolio. Many in the Android community are already familiar with the Nexus branding so it may be a difficult decision to make if Google chooses this route. We'll have to wait until 2015 and see if Murtazin's speculations are accurate.

As an Amazon Associate I earn from qualifying purchases.