An iPhone app that really blows. No, seriously.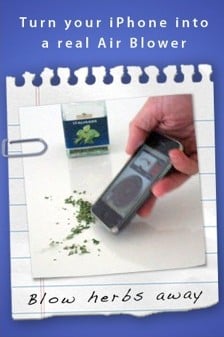 I can't count the number of times I've been plagued by random scatterings of herbs on my desk and countertops. That's primarily because I start counting from one, not zero. Still, I was intrigued by the prospect of using my iPhone to blow herbs out of my way, so I decided to see if iPhone app Blower really does blow.
Direct answer: yes, it literally blows. By producing a high-pitched sound that sounds a lot like a fan, this app can push enough air through the iPhone's built-in speaker to create a gentle breeze, enough to feel on my skin and push dust and particulate off my desk. Sarcastic answer: yes, it figuratively blows. I can't tell if the dust is being repelled by the air flow or if it's fleeing from the sound of that high-pitched squeal.
Regardless, if you don't want to expend the lung power to blow out candles or clean your table of herbs, Blower can do the job for 99¢. Yes, I plunked down almost a dollar to test this on your behalf. That's how much I love you, the reader (and how much I will pay for an excuse to post infantile jokes).