Android 2.3.4 Update Officially Bringing Video Chat to Nexus S (Video)
Google's Nexus Twitter account just announced that Android 2.3.4 will be rolling out to Nexus S and Nexus One owners in the next few weeks and lo and behold it will be bringing video chat along with it.
The video chat feature will be baked into Google Talk which will be rolling out to Nexus S owners with the Android 2.3.4 update, an update that will hit other Android 2.3+ devices at some point in the future.  Nexus One owners won't be seeing video chat right off the bat but they will be seeing some bug fixes.
Here is how the whole video chat function will work according to Google:
In your Google Talk friends list, a video or voice chat button will appear next to your contacts and you can simply touch the button to connect with them. Any text chats from the person you're talking with will be overlaid on your phone's screen so you can read them without having to leave the video. And, if you need to check something else, the video pauses automatically so you can go back to your phone's home screen or another app. The audio will keep going even though the video has paused.
The video you see below is a pretty good demonstration of exactly that.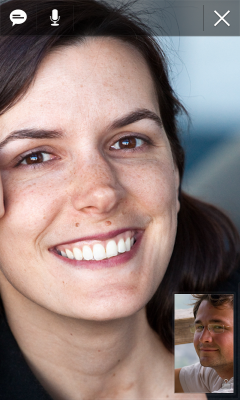 Google's Nexus account also said that this wasn't the surprise that's in store for today either. That's right. There is something else looming on the horizon, what could it possibly be?
—
Nexus S Android 2.3.4 Video Chat Demo