Android 3.0 Honeycomb Movie Studio Enables Movie Editing on the Go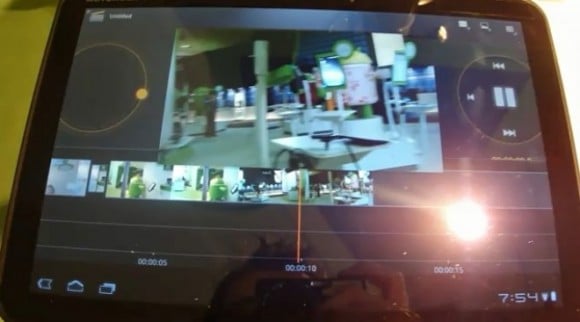 Google has developed a movie editing software for Android 3.0 Honeycomb called Movie Studio, though at this time it isn't clear if the app will come pre-installed on upcoming Android Honeycomb tablets like the Motorola Xoom. On the go movie editing through Movie Studio looks smooth and simple, which would give Android a competitive edge with the iPhone iMovie paid app from Apple as well as the movie editing suite provided gratis on the Symbian-based Nokia N8 smartphone.
It's also unclear if Movie Studio will make its way down to Android smartphones as Android 3.0 at this time is made only for tablets. While the program itself seems well executed, the problem with this solution is that it would require additional steps to get movies recorded on a smartphone–which is better served as a digital camcorder as it's smaller, more portable, and less obtrusive than holding a 10-inch slate to capture your videos–onto the tablet. Users would either have to swap the memory card from their Android handset and insert it into their tablets or transfer the files over via a computer as most Android tablets today don't come with a USB host port or support USB OTG (USB on the go), the latter feature is supported on the N8 for easy import of video files onto your device.
If users do decide to record videos on the rear cameras of their 10-inch slates, it'd be interesting to see a generation of film-makers holding large digital 'camcorders' to capture and edit the action.
Via: IntoMobile

As an Amazon Associate I earn from qualifying purchases.