Android 4.0 Dates For Droid RAZR, RAZR MAXX and HTC Rezound Confirmed?
A leaked document has seemingly leaked out the Android 4.0 Ice Cream Sandwich roll out dates for a trio of Verizon 4G LTE devices including the Motorola Droid RAZR, Droid RAZR MAXX and the HTC Rezound. If this leaked document from Best Buy is solid, and right now we have no reason to think that it isn't, the Droid RAZR and RAZR MAXX will see Android 4.0 on April 4th while the HTC Rezound will get it two days later on April 6th.
Now, as with all major Android update roll out dates, these dates can change at any moment in time so as of right now, you're going to want to circle these dates in pencil on the calendar.
It's also a little weird that this is coming from Best Buy and not Verizon, so take that for what it's worth.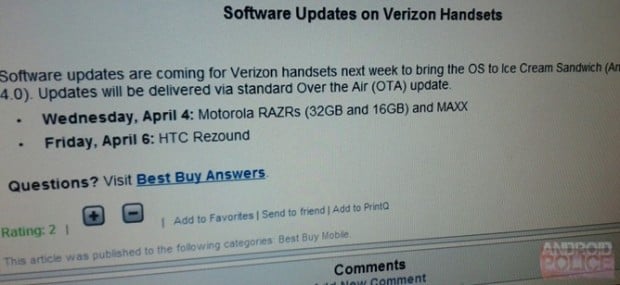 If true, this would mark the first big roll out of Android 4.0. We've seen it roll out for the HTC Vivid on AT&T, but we haven't yet seen it hit some of the more well-known devices like the ones listed here.
This is also a good sign for owners of other devices as well. Once these devices get the update and get settled, Verizon can then turn its attention to rolling out the software for other phones that it has promised Android 4.0 for.
They include:
HTC:

HTC ThunderBolt™
DROID Incredible 2 by HTC
HTC Rhyme™
HTC Rezound™

Motorola:

Motorola XOOM
DROID BIONIC™
DROID RAZR™
DROID RAZR™ MAXX™
DROID 4 DROID
DROID XYBOARD 8.2
DROID XYBOARD 10.1

Samsung:

Samsung Galaxy Tab™ 10.1
Samsung Galaxy Tab™ 7.7

LG:
And while I personally think the HTC ThunderBolt and Motorola Droid Bionic should be first in line for the updates, it looks like Verizon has other plans.
We'll let you know when and if we hear something more as far as roll out dates are concerned.
Via: Android Police

As an Amazon Associate I earn from qualifying purchases.