Android 4.0 for HTC ThunderBolt Gets Closer to Release
Earlier this month, I wrote about how HTC ThunderBolt owners deserved some answers in regards to the Android 4.0 update. Sure enough, a few weeks later (I'm not taking credit, mind you), HTC announced that the first 4G LTE device on Verizon would indeed be getting the upgrade to Google's Android 4.0 Ice Cream Sandwich software. Although, it didn't say when. Well,  it appears that the update in getting closer to release as testing is set to begin for the software.
According to VZBuzz, HTC is actively seeking out testers for the new software by sending out emails to prospective individuals.
You can see what HTC is looking for in the screenshot below.
And while this doesn't shed any light on when the update will be coming exactly, that would be too good to be true, it's a sign that things are moving along, which is great for a phone that will be a year old later on this month.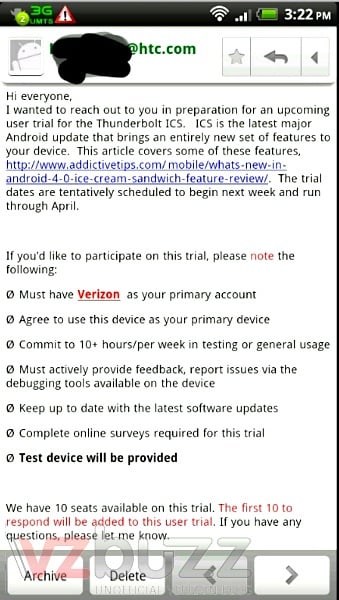 The HTC ThunderBolt has had one of the longest journey's of any smartphone in recent memory. From the botched launch, to the random reboots, to the long wait for Android 2.3 Gingerbread, this phone has tortured its owners from day one.
If you recall, this was a phone that many believed could compete with the iPhone 4 and while the device certainly sold, it came no where close to Apple's iconic device both in sales and in quality.
Android 4.0 should make for a much improved experience on the HTC ThunderBolt, especially if HTC is somehow able to include HTC Sense 4.0, the slimmed down UI that will be arriving with the HTC One Series of smartphones that the company announced at this year's Mobile World Congress.
Exciting stuff, eh ThunderBolt owners?

This article may contain affiliate links. Click here for more details.