Android 4.0 Ice Cream Sandwich Fully Detailed
The Galaxy Nexus wasn't the only thing announced at Google and Samsung's event in Hong Kong.
Google also unveiled the highly anticipated Android 4.0 Ice Cream Sandwich operating system that will be shipping on the Galaxy Nexus and went over quite a few features including Android Beam, facial recognition software, a vastly improved task manager, and a whole lot more. Let's breakdown the most significant changes that are coming with Android 4.0, which will arrive in November along with the Galaxy Nexus.
No word on when other devices will see the new software.
Roboto
Android 4.0 will bring a brand new font with it called Roboto. It was built from scratch and made specifically for high density displays. Google describes it has having a "dual nature. It has a mechanical skeleton and the forms are largely geometric. At the same time the font's sweeping semi-circular curves give it a cheerful demeanor."
Goodbye physical buttons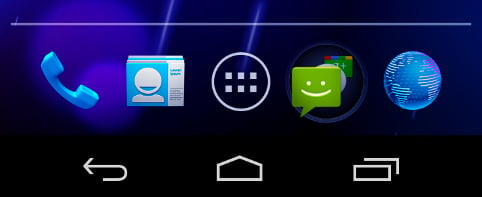 Next, Ice Cream Sandwich will be bringing about the end for physical navigation buttons and will instead offer up virtual buttons embedded in the UI. They will rotate when the device is in landscape mode and they will vanish into thin air when you're watching media. There will also now be five home screens for you to customize to your hearts content.
Widget makeover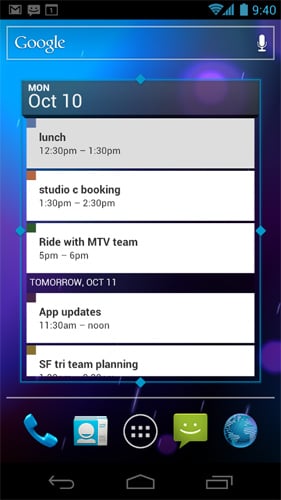 Google has also retooled widgets. They are now scrollable and can be re-sized, something that Android enthusiasts have been waiting for for quite some time. You can also now drag and drop widgets onto the home screen. Additionally,  create folders full of widgets by just dragging and dropping one widget on top of another. If you've used iOS 4 or iOS 5, you know exactly what I am talking about.
Favorites
There is now a favorite's tray at the bottom of the screen where you can toss folders or links to apps giving you easy access to the things that you use most often.
Screenshots, finally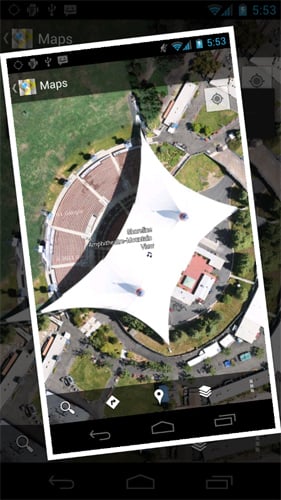 Android 4.0 will also bring an easy way of taking screenshots. You can now just hold down the power button and the volume down button and you'll be able to take a quick photo of your screen.
Huge.
New Notifications features
Google has reworked  Android's notifications system and you can now and you can dismiss them just by swiping away. You can also customize the alerts that your applications might be sending you.
Keyboard is improved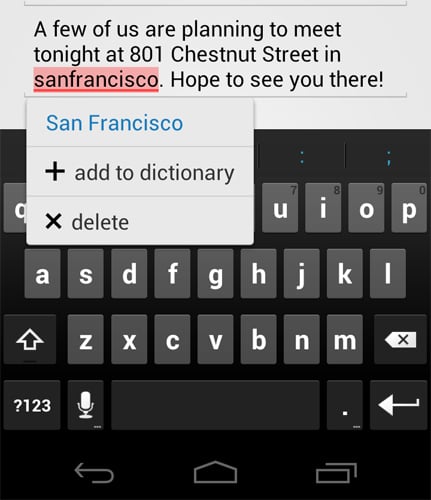 The keyboard in Android 4.0 is improved and there is now an in-line spell checker (awesome), a better copy and paste system, and improved error correction so your texts don't end up on a Tumblr blog.
If you wish to use talk-to-text, that's here too. Simply talk into the device and Android will work out the words and put them into text.
Facial recognition for the lock screen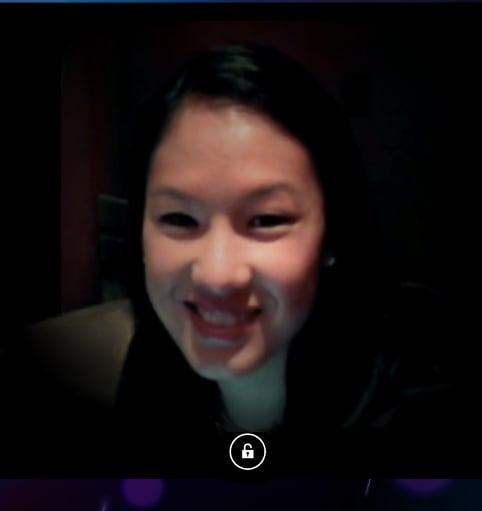 Also included in the new software is facial recognition technology that will allow you to use your beautiful mug to unlock your device. The demo didn't work but its intentions are obvious. Let's just hope there is a way to turn it off.
Improved Browser functionality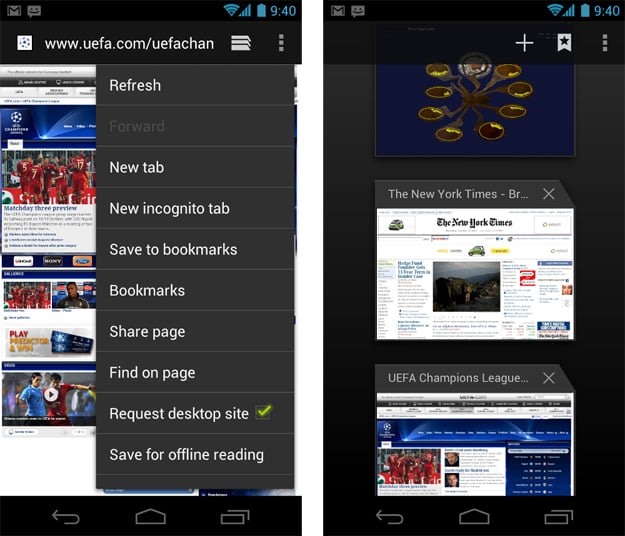 Ice Cream Sandwich's browser now allows for 16 different tabs to be open at one time and there is now a drop down menu that allows you to request desktop version of a website just in case you hate the mobile version. I hate most of them so I am loving that. In addition, bookmarks in Chrome will automatically sync with your phone. And you can also save entire pages in order to read them when you're offline.
Gmail gets an overhaul
Gmail has been given a makeover and now features two-line previews to give you a better sense of whether or not you want to open it up. There is also a new menu bar that gives you quick access to things like creating an email or searching through your Inbox. You can now swipe to the left or right in order to view messages and Gmail now includes offline search.
Again, huge.
The calendar has been revamped and now includes a revamped UI as you can now swipe between days and it also now allows you to pinch and zoom.
Data usage is great for tiered data users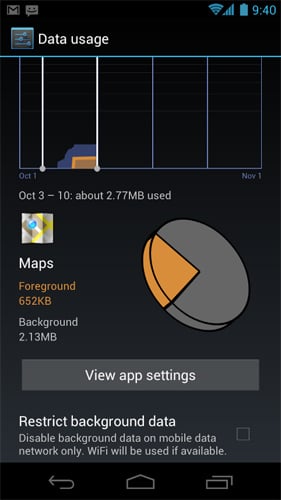 Google has also implemented something called Data Usage in the Settings which will allow you to better track your, you guessed it, data usage. You can check your current usage and you can also use it to estimate how much you'll be using when the month ends. Handy for those of you that are on tiered data plans.
Photo app sees big changes

One of the most exciting parts of Ice Cream Sandwich was surely the new options when it comes to taking pictures. Android 4.0 will be bringing a new photo editing function that includes adjust angle, touch up, remove red eye and more. There are also several built-in photo filters, something that we saw leak out just a few days ago.
The coolest aspect though was probably the panorama mode where you just click a button to start and follow the on-board instructions and then watch as the phone creates an awesome panoramic view of your surroundings. The demo was impressive and I can't wait until my Twitter feed starts flooding up with these sorts of photos.
There are also a host of other camera options for when you're recording video like time lapse and the ability to zoom while your filming.
Contacts
The contacts part of the Android has been given a face lift as well and there is a new sort of magazine layout that now displays a photo of all of your contacts. You can also click on a contact anywhere in your phone and it'll bring up a multitude of options as far as contacting that person is concern. Facebook, Twitter, Google+ being the big ones.
You'll also get Status Updates about your contacts from selected social networks.
Android 4.0 will also come with a neat little ability to send a quick text message to someone if you're unable to answer a call.
Android Beam
Last but not least is Android Beam. Android Beam is essentially sharing via NFC. The demo saw two phones, touching each other back to back, sharing a webpage between them. All you have to do is hit a 'Touch to Beam' prompt when its available and boom, websites, contacts, YouTube videos, and locations can be shared back and forth between ICS devices.
You can even beam games to friends and if they don't have it, it'll take them to the Marketplace for download.
Android Ice Cream Sandwich's SDK is available this moment and it will make its official debut along with the Samsung Galaxy Nexus at some point in November, possibly on November 10th.
What do you guys think?
I'm pretty impressed and get wait to get hands-on.

As an Amazon Associate I earn from qualifying purchases.