Android 4.2 on Nexus 7 Review: Jelly Bean Revisited
Back in November, the Nexus 7, Google's 7-inch tablet, was outfitted with the latest Android update from Google, Android 4.2. A few weeks later, Google released the first update to Android 4.2 Jelly Bean, Android 4.2.1 which was a relatively small update but fixed an annoying bug in the People application. Now, a few weeks later, it's time to revisit Android 4.2 Jelly Bean and look at it further.
Read: Android 4.2 on Nexus 7 Review: Final Impressions and Performance.
Almost immediately after Google released Android 4.2 Jelly Bean, and a short time after I reviewed it, tons of Nexus 7 owners started to complain about a host of issues that evidently came on board the software. This is something that generally happens with Nexus updates as they are the first to Google's big Android updates. Sometimes people forget, they are developer devices, the Nexus 7 included.
Problem is, the bugs were more prevalent, more annoying than usual. Nexus 7 owners in particular were left dealing with a host of issues ranging from random reboots, to lengthy charging times to terrible battery life to a sluggish UI. That just scratches the surface too. One other bug that was on board was one that did away with the month of December in the People application. Google has since fixed that bug with a swift 2MB update, Android 4.2.1.
Read: Android 4.2 Jelly Bean Bugs Plaguing Nexus Users.
When I first reviewed the Android 4.2 Jelly Bean update I didn't encounter any of these bugs. And that's how it sometimes goes. Software bugs often take a bit to unmask themselves. Lately though, I've run into two in particular that I'll detail later.
I also want to revisit the software and discuss what features I've been using the most, one of which even surprised me. Here now we revisit Android 4.2 Jelly Bean on Google's Nexus tablet, the Nexus 7.
Nexus 7 Bugs I've Seen
When I first reviewed Android 4.2, I didn't run into any major issues. Since then, there is one issue that I've run into that's been driving me absolutely nuts and two others that are relatively minor.
Slow Charging
While I didn't encounter this at first, over the last few weeks, I've noticed a sharp increase in the amount of time that it takes to charge my Nexus 7. Earlier today, around 11AM PST, I put my Nexus 7, which I purposely drained down to 0%, on my charger. Right now, at 3PM PST, my Nexus 7 has charged to 13%. Unless I'm crazy, that's not normal for the Nexus 7 or really, any device in recent memory.
It's an annoying issue to be sure and one that lots of Nexus 7 owners are complaining about. Sadly, Android 4.2.1 didn't fix it which means that I'll likely have to wait for Android 4.2.2 Jelly Bean which may not even end up solving the problem.
Auto-Brightness Bug
The other bug I've seen is the auto-brightness bug that plenty of Nexus owners have seen. On my Nexus 7, if you head into Quick Settings and turn auto-brightness on, the screen of the Nexus 7 starts to flicker. It's more than annoying when trying to read something on the web and it basically has killed the feature for me.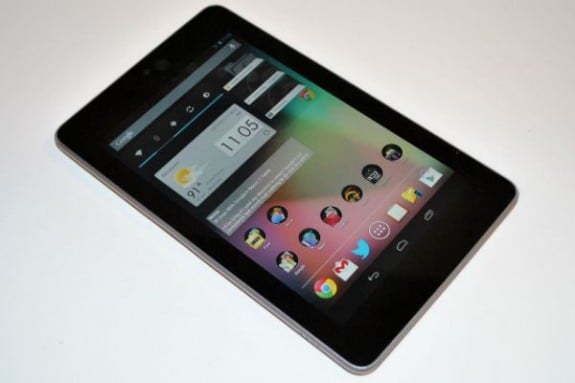 Other users are reporting that their device will automatically turn the display down, even it's not necessary, but I have yet to see that issue arise with my Nexus 7's software or display.
Bluetooth Issues
I am not a huge Bluetooth owner so this bug doesn't affect me on a daily basis but it's still there. I have had poor Bluetooth connections with my Nexus 7 ever since I installed Android 4.2. It often loses a connection when I try and connect it to a Bluetooth-enabled device. This would frustrate me more if there actually was a Nike+ FuelBand Android application but since there isn't, it has yet to cause me to sprout any gray hairs.
Bugs That Haven't Seen
So those are the bugs that I've seen. But what about the major ones that haven't seen? Here is a list of Nexus 7 issues that owners have reported but that have yet to take place on my Nexus 7.
Random Reboots
Some Nexus 7 owners are reporting that their Nexus 7 has started to randomly reboot after installing Android 4.2. While this has happened on my iPhone 5, I have not experienced it on my Nexus 7.
UI Sluggishness
The Android 4.2 Jelly Bean user interface is still buttery for me. I haven't experienced any hiccups, even when I have a ton of stuff going on at the same time.
Read: How to Fix Nexus 7 Android 4.2 Jelly Bean Lag Issues.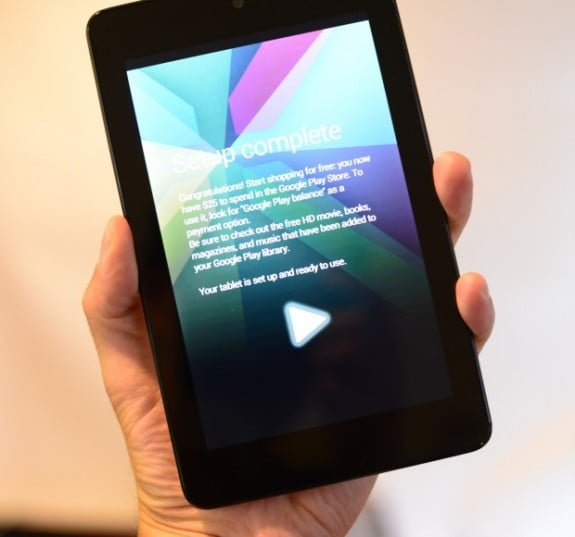 The only time I experienced a hang up was right after I started using Multiple User Accounts and since then, everything has been smooth. Fortunately, for those that are experiencing issues, there is a fix. Google Currents may be to blame and by disabling it or at least some of its functionality, things might return to normal.
Poor Battery Life
Nexus 7 owners have reported terrible battery life after installing the update. While my battery takes close to a decade to charge, I haven't experienced any sort of abnormal battery drain once I take it off the charger rocking 100%. I get about eight to nine hours when I am using it normally and a little less than that when I am using it for a few minutes every hour throughout the day.
My Nexus 7 battery life has never been amazing but I haven't seen a significant drop after installing Android 4.2.
Android 4.2 Features That I Love
After using Android 4.2 Jelly Bean in the early days, I fell in love with the operating system as it brought several useful features to a mobile operating system that was already Google's best. But do I still use them still? Yes and no. First, here are the features of Android 4.2 Jelly Bean that I use on a daily basis.
Quick Settings
I don't know what I'd do without Quick Settings, the nifty little function that is situated in the Notification Bar. I have swiped down from the right hand side of the Notification Bar hundreds of times to change settings like W-Fi, check my battery life, and go into Airplane Mode when I am up in the air.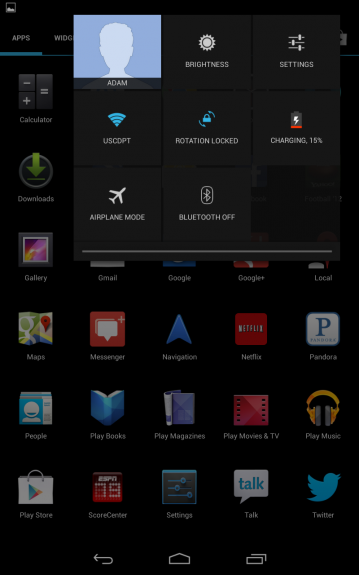 It's a lifesaver, a time saver and one of my favorite features of not only Android 4.2 Jelly Bean but of Android as a whole.
Google Now
A few weeks ago, I was just starting to buy into Google Now. Now, I can't get enough of it. As someone who gets a lot of packages, it has been a lifesaver as it brings up cards that let me know when packages have been shipped or when they've arrived. I've also used it to fill me in on my flight times which came in handy just a few short days ago when there were a bunch of delays.
It's a work in progress as it will take it a bit to learn my habits but I really think this is an underrated feature and one that more people should be talking about. I honestly can't believe I didn't use it right off the bat.
Multiple User Accounts
This feature, which is for tablets only, has been amazing. My girlfriend and I have seamlessly made the transition into sharing the Nexus 7 at night for things like reading, light web browsing and checking email. I also got her to set up her own home screens so she doesn't disturb mine.
Features That I Don't Use
There are two features of Android 4.2 Jelly Bean that I still don't use much. One of them was one I was really excited about at first and the other, well, the other is to be expected I think.
Lock Screen Widgets
I think the addition of Lock Screen Widgets was a nice idea but the problem is, there just aren't enough official widgets for me to play around with to make it worth my while. At first I like the appearance of Gmail on my home screen but now I just blow right past it and on into the actual Gmail application, which by the way, is fantastic in Jelly Bean.
The other widgets, like the one where it can track down a song, just haven't been useful to me. Here's to hoping Google adds a bunch of free ones (I know I could pay for them on the Play Store but I won't) in an upcoming update.
Daydream
Incredibly useless.
Android 4.2.2 Would Be Nice
So, for the most part, Android 4.2.1 Jelly Bean is a great update. My mind hasn't changed. Those with the Nexus 7 should certainly think about installing it as it boasts some significant upgrades over Android 4.1 including Quick Settings and the Multiple User feature. I don't blame those who might be second guessing as there are lots of issues plaguing the software.

However, know that there are users like me that have come out relatively unscathed. That doesn't mean that I don't want Android 4.2.2 to come far down the road. In fact, I'd love for it to roll out soon, if to only fix that pesky charging bug.
In any event, Android 4.2 Jelly Bean and really Jelly Bean as a whole have motivated me to use my Nexus 7 a whole lot more and they both have me excited about what's to come from Android 5.0 Key Lime Pie.

As an Amazon Associate I earn from qualifying purchases.