Android 4.4.3 KitKat Update Rumored for Popular Device
Google's Android 4.4.3 KitKat update has been out for two weeks but that doesn't mean that the roll out has ended. No, the Android 4.4.3 KitKat release is far from over and rumors about upcoming roll outs for select Android smartphones continue to emerge in the days after the update's release.
In the weeks leading into June, we heard a ton about Google's supposed Android 4.4.3 KitKat update, an update that would supposedly fix many of the problems plaguing users on Android 4.4.2. On June 4th, T-Mobile announced the arrival of Android 4.4.3 KitKat and in the hours after the announcement, Google started pushing the update to Nexus users.
The company's Android 4.4.3 KitKat update is now available for a number of devices including the Nexus 4, Nexus 7, Nexus 10, Nexus 5, Moto X, Moto G, Moto E, and select Google Play Edition devices. The update brings the expected bug fixes and it also delivers changes to the stock dialer and Android 4.4 KitKat's People app.
While the Android 4.4.3 KitKat update is now public and widespread, Android 4.4.3 KitKat rumors continue to emerge teasing owners of other Android smartphones. Recently, we've heard rumors about Android 4.4.3 KitKat updates for the Samsung Galaxy S5 and Samsung Galaxy S4. Rumors suggest that we could see Samsung deliver a Galaxy S5 Android 4.4.3 KitKat update in June and a Galaxy S4 Android 4.4.3 KitKat update for the LTE-A model in July.
Credible sources are also saying that at least one other Android 4.4.3 KitKat is on the way to a popular Android smartphone.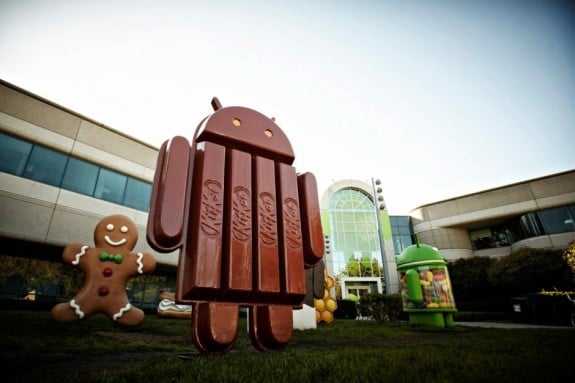 Rumors leading up to the Android 4.4.3 KitKat release pointed to an arrival for the regular versions of the HTC One M8 and HTC One M7. The leaks came from well known HTC insider LlabTooFeR who said that the updates would be released in May or June. While they both remain unreleased, he recently issued a brief update in response to a question on Twitter.
He claims that the HTC One M8 Android 4.4.3 KitKat update is still in testing, a sign that it's still coming to one of the year's most popular Android flagship smartphones. Unfortunately, he did not elaborate on the timing of the release which of course is tied to how well the software does in testing. While HTC could certainly be targeting June for a release, any mishaps in testing could potentially push the software out of this month and deeper into the summer.
It's not clear what HTC's Android 4.4.3 KitKat update will deliver to HTC One M8 users though we've speculated that it could contain fixes and enhancements aimed at the company's Sense 6 software. Android manufacturers will often load up Android updates with fixes for their own UIs while also delivering Android features from Google. It's also not clear if the HTC One M8 and HTC One M7 will be joined by other devices.
Android 4.4.3 KitKat replaces Android 4.4.2 KitKat as the company's most current version of Android but it may not be the only new Android update released in 2014. Google tends to release at least one major Android update every year and with Nexus 8 rumors pointing to an arrival in the third quarter, we could perhaps see Google debut a new version of Android this summer.
Google I/O is set to take place next week though with Android and Nexus rumors slowing down, we may not see the company debut a new Nexus device or new Android update at the show. The company is, however, expected to announce Android Fit, a competitor for Apple's CarPlay feature, and perhaps, the Moto 360 release date. The Motorola 360 is a smartwatch that is expected to compete with the rumored iWatch.