Android 4.4 KitKat Update Leak Shows Nexus 5 Software
It looks like an early Android 4.4 KitKat build has leaked, for real this time, showing off the software that may be coming with Google's new Nexus smartphone, currently being dubbed Nexus 5, but a device that could potentially be coming as a Nexus 4 2013 edition.
For weeks now, Nexus 5 and Android 4.4 KitKat update rumors have been swirling. Android 4.4 KitKat rumors started heating up after Google announced the software in early September in an attempt to take away some of the iOS 7 update's steam. Nexus 5 began to swirl after Google accidentally revealed an unknown Nexus smartphone, now thought to be a Nexus 5, inside a promotional video for the Android 4.4 KitKat update.
Since then, the two have been the talk of the Android world and from the looks of things, a launch could be close with rumors suggesting an arrive in mid-to-late October alongside an Asus Nexus 10.
Google products have a habit of leaking out well ahead of their launch dates. So it wasn't surprising to see the Nexus 5 leak out several times for the camera ahead of its arrival. Android 4.4 KitKat on the other hand has been a little harder to track down. We've seen it appear in some logs with the Nexus 5 and we saw some suspect photos emerge a few weeks back, but until now we hadn't seen anything extensive.
Read: Nexus 5 Release Date Rumor Needs to Die.
A site called GadgetHelpline today leaked several screenshots of what it is calling an early Android 4.4 KitKat test build, something seemingly confirmed by a kernel date of August 28th. This means that this piece of software, if real, is more than a month old and in the software world, things can change very quickly in a month.
That said, the photos appear to give us a real first look at what to expect from the Android 4.4 KitKat update. First, the update seems to have some user interface changes including some tweaks to the overall color scheme of the software with blue being replaced by neutral colors in some places including inside the dialer.
This notion seems to be confirmed by other screenshots where things don't look drastically changed, even the app drawer and the logos inside of it appear to be similar to those found in Android Jelly Bean.
We also get a glimpse at the camera application which doesn't appear to be overhauled but will evidently gain a few more options in the photo editor. We also see some new additions to the Settings menu including Printing and Payments. Neither of those are detailed.
Overall, it doesn't appear to be a huge change from Android 4.3 Jelly Bean though this leak doesn't touch on everything and again, it's an early build if it's indeed real. There is, however, one more interesting piece of information to note.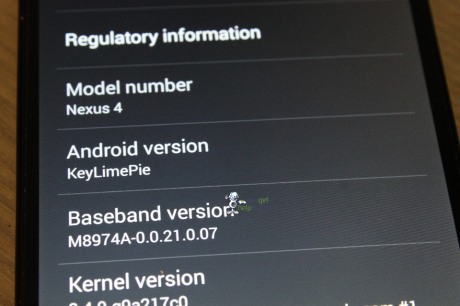 The folks over at TuttoAndroid have dug into this leak and they claim that this device is likely the new Nexus 5 given that some of the visible parts lineup and given that it's called "hammerhead" the known codename for the Nexus 5.
This is something that was brought up last weekend when log files showed off the Nexus 5 and Android 4.4 KitKat update together. In some places, the device was called Nexus 5 and in others, the device was called Nexus 4. So it's possible that Google is using both to ensure that the real name isn't known ahead of launch.
Earlier this year, the company announced a new Nexus 7 but did not called it the Nexus 8 or Nexus 7 2. Instead, it dubbed the new Nexus, Nexus 7, a sign that it could be looking to do the same with the new Nexus smartphone.
Rumors suggest that the Nexus 5 will start shipping in late October and Nestle, Google's partner on KitKat, claims that the Android 4.4 KitKat will be out sometime this month as well.

This article may contain affiliate links. Click here for more details.