Android 4.4 KitKat Update Release Date: What to Expect
Last week, Nexus 5 rumors suggested that the device would be launching today alongside the Android 4.4 KitKat update. That obviously did not happen meaning the rest of the year is wide open. Sort of. We still expect the Nexus 5 and the Android 4.4 KitKat update to arrive at some point in the next few weeks with October still a possibility.
For several weeks now, Nexus 5 and Android 4.4 KitKat leaks and rumors have been emerging on a near daily basis, teasing consumers who are in the market for a brand new Nexus smartphone and or are looking forward to a fairly big update to Google's Android operating system. Rumors initially pointed to October 14th or October 15th as launch dates for both products but it looks like Google has other plans as both dates proved fruitless.
Still, there is a good chance that we'll see both the Nexus 5 and Android 4.4 KitKat arrive during the month of October as rumors have hinted at a late October launch. Whatever the case may be, the release dates for both of these products are coming up and it's only a matter of time before buyers and Android users encounter both the Nexus 5 and Android 4.4 KitKat update.
While many consumers are invested in the Nexus 5, many others are curious about Android 4.4 KitKat, an update that was announced in early September and one that has sprung to the surface in various leaks over the past few weeks. From the looks of things, the update is going to be incremental in that it won't overhaul the operating system in the way that iOS 7 overhauled iOS.
Instead, it looks like the update will add some new functionality including icon changes, a new Cloud Print option, tap and pay NFC payment options, a new clock & stopwatch and a rumored Google Experience Launcher that will take over the home screen. It's an update that, on paper, looks like it will be a welcomed upgrade from Android Jelly Bean.
Problem is, Android devices owners still don't have any idea when the update will arrive. Here, ahead of its launch, we take a close look at what to expect from the upcoming Android 4.4 KitKat update release date.
Specific Release Date Announced at Launch
Google is going to go one of two routes with the Nexus 5 and Android 4.4 KitKat launch. It's either going to send out a simple press release without an event like it did last year after the Nexus 4 launch was cancelled due to Hurricane Sandy, or, it's going to send out media invites for an event that will take place in the next few weeks. Whatever the case may be, we expect Google to deliver a release date for Android 4.4 KitKat at the event.
Since the software is already official, we would not be surprised to see Google deliver a specific date for those who own an older Nexus device. At worst, Google will give owners the "couple of weeks" spiel. Even if it does that, we expect the update, at worst, to roll out by the time the Nexus 5 is released onto shelves. Last year's Nexus 4 release date also served as the Android 4.2 Jelly Bean release date.
Expect Google to offer up some specifics on the release date of the software. It would be extremely strange to see the Nexus 5 launch come and go without an idea about the initial Android 4.4 KitKat release.
Android 4.4 KitKat Release In & Around Launch Date
There are rumors that suggest that the Nexus 5 could touch down on shelves in late October. At the worst, we expect it to arrive by mid-November. We expect the Android 4.4 KitKat update to roll out around the time that Google puts the Nexus 5 out so that could mean an arrival in late October if the rumors hold up or a release in early November if the release date is pushed a few days or weeks.
With Gogole and Nestle preparing an ad campaign that may or may not tie into Halloween, it would be strange to see Google push the release any further out than late October or early November.
Gven the competition in the tablet market with Apple threatening the Nexus 7 and Nexus 10, Google will want to breath new life into those devices before Black Friday. Translation: We expect the Android 4.4 KitKat release date to arrive in a few weeks at most.
These Nexus Devices Will Get it First
Of course, select devices will get it during the initial roll out phase. Google isn't like Apple and it doesn't roll out software across the board. Instead, Android users should expect a small fraction of devices to get the update, devices that fall under the Nexus umbrella.
One of the perks of owning a Nexus device are the fast updates that they get straight from Google. What this means is that Android 4.4 KitKat is more than likely going to roll out to Google's Nexus devices first and then spread to other devices throughout the rest of 2013 and 2014. At this point, there are four devices that we can say for sure will get Android 4.4.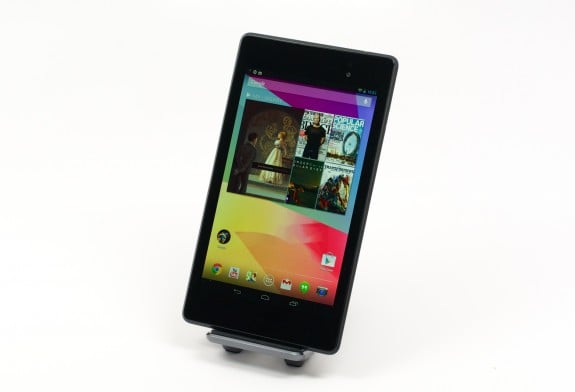 The Nexus 7, Nexus 7 (2013), Nexus 10 and Nexus 4 will all get the update. Google typically updates Nexus devices for at least two years and we've also seen these updates appear in logs ahead of time. The Galaxy Nexus is on the fence due to its age. Perhaps Google will have some mercy on its owners.
The roll outs will likely be done in a staggered approach, meaning, they will roll out in waves over the course of a few weeks. It's a slow process but it's how Google typically does it.
Few Details for Non-Nexus Users
As for those without Nexus devices, expect the Android 4.4 KitKat release date to be far off in the distance. We're talking months, not weeks. Owners should also expect there to be very little information when it comes to those updates. Google certainly won't announce specific timing and manufacturers often wait until an update is close before confirming it for arrival.
That said, we could see a company like Sony quickly move to confirm an update for its devices in order to steal some of the attention away from competitors like HTC and Samsung.
Manual Installation
Google tends to post the software updates to its servers, which are then pulled by resourceful members of the development community for use by the public at large. We expect this to occur with the Android 4.4 KitKat update right from the start, giving owners of Nexus devices the opportunity to install the updates ahead of the OTA roll out.
Those who have done this before will likely have an easy time pulling the software and getting it on board. Those who have no experience will want to start researching the process. Otherwise, be prepared to wait a few weeks for the update to roll out.
Day One Issues
Finally, expect there to be day one Android 4.4 KitKat update issues. While we likely won't see the server issues that impacted Apple's iOS 7 update, we will likely see a number of issues get discovered by Nexus owners. Typically, major Android updates bring a number of issues along with them. In the past, we've seen issues like battery drain, UI sluggishness, slow charging, and various minor issues plague Nexus owners.
Unfortunately, it's all part of the Nexus game. While they are no longer marketed as developer devices, Nexus devices are essentially Google's software guinea pigs. It's a trade-off that Nexus owners have had to deal with for years and we expect the same to occur with Android 4.4 KitKat.
We can't remember a flawless Android update release so expect there to be a ton of complaints from Nexus device owners in the first few weeks of its arrival. Its inevitable.

This article may contain affiliate links. Click here for more details.