Android 5.0 Key Lime Pie Concept Good Enough for Google
Google didn't announce a new version of Android at Google I/O 2013 but that doesn't mean it doesn't have major updates in store for Android owners. The first of these updates should be Android 4.3 Jelly Bean, rumored to be arriving in July, while the biggest update of the year is thought to be Android 5.0 Key Lime Pie. And while we haven't heard much about the real Android 5.0 Key Lime Pie, Android enthusiasts may hope that it resembles a Android 5.0 concept that recently emerged.
At Google I/O 2013, the company failed to offer an Android update for smartphone and tablet owners, instead choosing to focus on upgrades to its current services. However, rumors suggest that a new Android update is close with whispers pointing to an Android 4.3 Jelly Bean release in the not-so-distant future. Rumors suggest the update could arrive as soon as this month with July also being mentioned as a possibility.
Android 4.3 isn't thought to be a massive upgrade from Android 4.2. Instead, Google is likely saving its best for an update later in the year, an update that is thought to be Android 5.0 Key Lime Pie.
Android 5.0 Key Lime Pie rumors are scarce with the only whispering suggesting that the update could be arriving in late October, just like last year's Android 4.2 update. Features, however, remain unknown.
A new Android 5.0 concept from Jinesh Shah, courtesy of Droid-Life, likely doesn't represent what Google has in store for Android owners but it is a concept that is worthy of the attention of Android's keeper.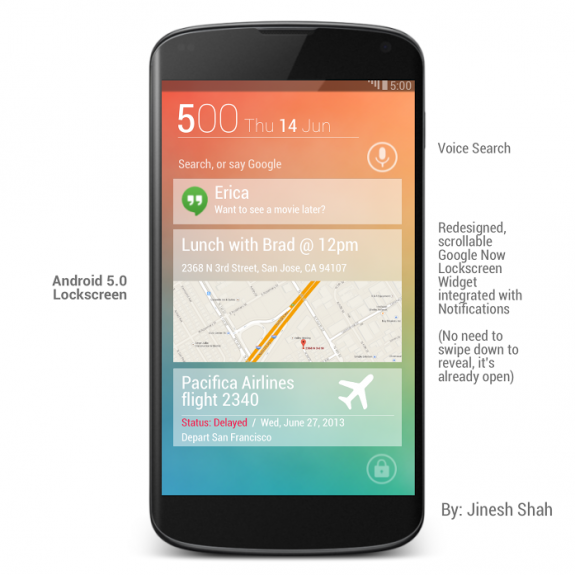 Shah's Android 5.0 concept introduces several new features including a new Google Search widget, new lock screen widgets, a new Google Music widget, and a new lock screen.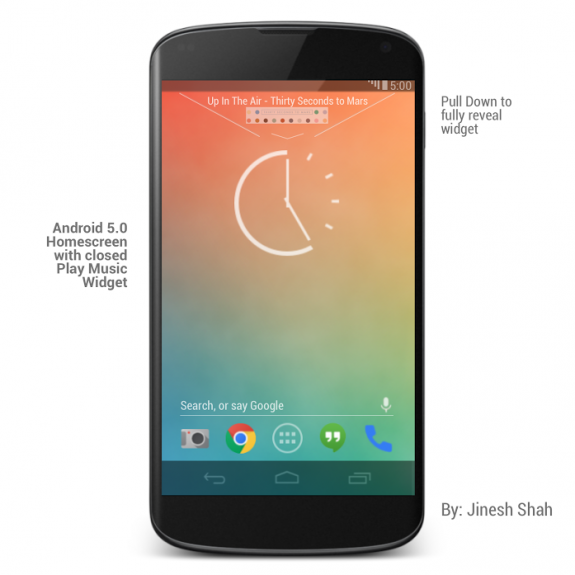 His concept isn't a complete overhaul of what Google brought to the table with Android 4.1 Jelly Bean, but it does bring some well-thought out additions to the table.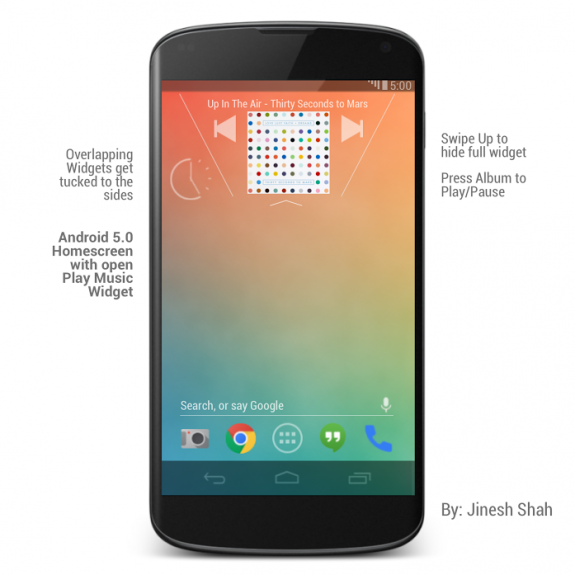 Of course, Google's Android 5.0 Key Lime Pie will almost assuredly look different but until Google decides to show it off, user concepts are going to be as close as Android users get. Fortunately, this new concept is one that is worthy of Google.

As an Amazon Associate I earn from qualifying purchases.