Android Accounts for 79 Percent of Malware in 2012
With the growing popularity of Google's more opened Android mobile operating system, the unintended consequence is that the platform becomes more attractive to hack and is susceptible to more malicious code, or malware. According to the latest report published by F-Secure, Android was so popular that it accounted for 79 percent of mobile malware in 2012, representing an increase of roughly 67 percent from a year prior.
On the other hand, Apple's iOS platform, which is a more closed ecosystem, remained constant with just 0.7 percent of mobile malware.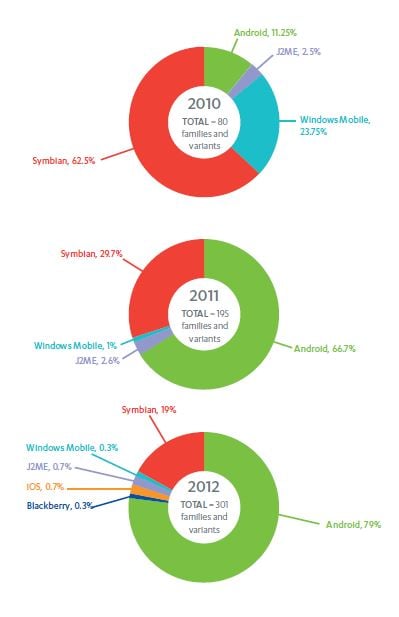 Apple also used the situation to belittle its largest rival in the mobile space. Apple senior vice president of Worldwide Marketing Phil Schiller turned to Twitter to tweet "Be safe out there," and linked to the F-Secure report. Apple's low malware risk is due to the fact that the company serves as the sole gatekeeper for third-party apps. Microsoft had also targeted ads against Google for malware in the past, hoping Android users would switch to Windows Phone.
Google takes a different approach and most apps submitted to the Google Play Store are approved. Google takes an ad-hoc approach to reviewing apps, and only apps with malware are then taken down where Apple takes a more preventive measure and not even allow apps with malicious codes to be approved. Moreover, on Android, users can sideload apps, or install apps that are not officially downloaded from the Google Play Store. This opens up other security holes.
Google has responded to malware threats on its latest Android 4.2 operating system with a built-in malware detector.
Still, despite in different operating paradigms, many users in the U.S. and Europe will probably never have to worry about malware. Malware is a big concern in China and emerging markets where users sideload a lot of free apps. Another source for malicious code would be pirated apps, where hackers embed malicious code in the pirated apps for unsuspecting users.
And like a regular computer, smartphones should be treated as mobile computing terminals. Opening unknown links in emails, Twitter messages, and text messages should be done with caution as those links may contain downloads of malicious code.
Symbian is the second largest pool for malware, accounting for 19 percent.