Android Could Become an $8.8 Billion Business for Microsoft Annually
Though Microsoft builds its own Windows Phone platform to compete in the mobile OS space, rival Google's free-to-use Android operating system could become a very lucrative business for Microsoft. If Google's Android OS market share continues to grow, Microsoft could profit up to $8.8 billion a year by 2017 from Google's hardware manufacturer through licensing revenues.
As Microsoft has been making claims that select features found on the Android operating system has infringed upon some of its own mobile technology patents, it has managed to extract licensing agreements with some of the biggest Android phone and tablet manufacturers right now, including Samsung, HTC, ZTE, Foxconn, to name a few. Licensing terms haven't been disclosed, but some early rumors suggest that Microsoft may be able to get revenues as high as $10-20–and even $30 by some estimtes–for each Android device sold.
Investment firm Goldman Sachs has estimated that Microsoft may have earned as much as $444 million in licensing revenue to Android OEMs for 2012. So how do we get from $444 million to over $8 billion?
Using Gartner's projections that Android would be shipped on around 1.5 billion devices in 2017, we have some basis to make estimates for Micrrosoft's licensing revenues.
If the company manages to get $8 per device sold, Android could become a $3 billion business for Microsoft this year alone and rise to nearly $6 billion by 2017. If Microsoft could ink more licensing deals with more Android OEMs so it could collect royalties on 75 percent of the Android devices sold in 2017, we're looking at a nearly $9 billion business for Microsoft.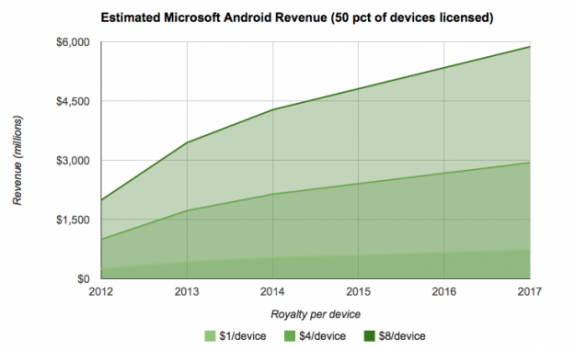 An infographics on Digital Trends, re-posted below, shows the revenue projections based on $1, $4, and $8 in royalties collection per Android device sold based on Microsoft collecting royalties on 50 percent of Android devices.
This amount of money is almost the equivalent of what Microsoft makes off of their Servers and Tools business. Given the rather symbiotic relationship here between Microsoft and Android, perhaps Microsoft has more to gain with the success of Android.
In the worst case scenario, if it just earns $1 per device in licensing, then Microsoft still stands to make $1.5 billion in 2017.
Perhaps, Google had even forecasted this and this is the reason why it's severing its ActiveSync license for consumers using Google services. Google may not want to feed Microsoft's coffers further by licensing Exchange for Android users as its partners are already paying Microsoft for other licenses.
We'll have to watch the market to see how things shake up in terms of market share numbers for iOS, Android, BlackBerry 10, Windows Phone, and even the emerging Tizen and Firefox operating systems.

As an Amazon Associate I earn from qualifying purchases.