Android Falling Out of LG's Favor On TV?
It looks like LG, which had been a Google TV partner bringing the search giant's mobile OS to its big HDTV screens, is now looking to switch allegiance and is favoring the Open webOS platform, which was born out of HP open-sourcing webOS post-Palm acquisition.
Though webOS, which had debuted on the Palm Pre as a contender against Apple's iPhone but was later eclipse by the popularity of Android as another challenger, was designed for smartphones, it looks like the scalable platform can be adopted for other users. Android itself has been touted as a scalable architecture that can be adapted for phones, TVs, appliances, cars, and other uses.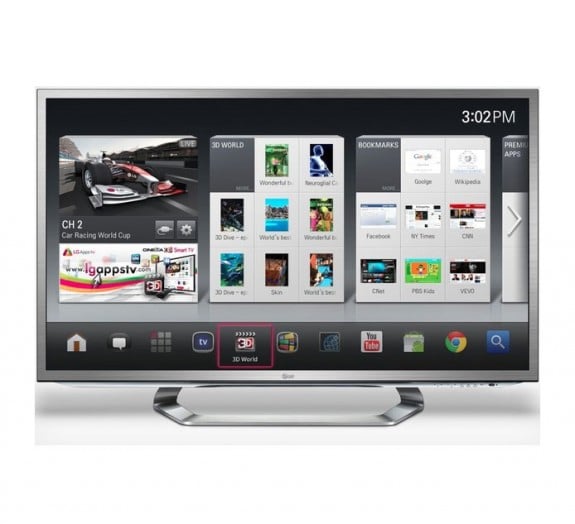 In order for Open webOS to work–and for LG to be successful in the smart TV segment–apps and widgets would need to be ported to the platform, such as Netflix, Pandora, YouTube, and Vudu to name a few. According to reporting by webOS Nation, porting has already begun for these apps.
One area that still needs to be addressed is said to be boot speed. webOS does take a while to boot up, and it's been rumored that LG may take a smartphone-like approach to televisions by leaving the computer engine running, but allowing the users to turn off the screen, much like how sleep mode works on a phone.
Manufacturers like LG have been known to pursue multiple approaches to a project like this, and Open webOS was one of three separate avenues they had been considering. That said, HP signed an agreement with LG in June around this project. LG's also had multiple engineers sent to Sunnyvale to work with HP's webOS engineers. They've also sent multiple LG L9 motherboards (L9 being LG's dual core chipset made specifically for their smart televisions).
LG is said to be aiming for a CES 2013 debut of the new Open webOS smart TV.
In other smart TV news, Samsung will begin incorporating Amazon's video on demand service on its 2012 lineup. Those sets run Samsung's proprietary Samsung smart TV architecture and not the Android-based Google TV platform.
Though LG may be switching directions on televisions, the company appears to be fully committed to Android. For the debut of Android 4.2 Key Lime Pie, it's been widely rumored that LG will be partnering with Google to deliver the Google-branded Nexus 4 smartphone.

As an Amazon Associate I earn from qualifying purchases.