Android Finally Gets In-App Purchases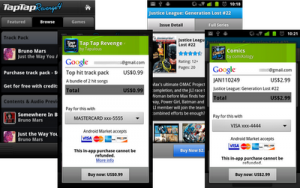 In a blog post to developers, Google has announced that Android will now get in-app payments and purchases.
Google says, "In-app Billing gives you more ways to monetize your apps with try-and-buy, virtual goods, upgrades, and other billing models. If you aren't yet familiar with In-app Billing, we encourage you to learn more about it."
The concept was initially popularized by Apple, which had used in-app payments to appease users and developers over the issue that there isn't a way to try before buying an app from the iPhone App Store at the time. However, the concept grew and gave developers the option to continue to monetize an app that's already sold by adding more levels or features, giving users enhanced tools, or adding virtual goods and currencies to games post-purchase.
Google says that several apps are now already launched with in-app payments, including Tap Tap Revenge, Comics, Gun Bros, Deer Hunter Challenge HD, WSOP3, and Dungeon Defenders: FW Deluxe.
Now that in-app paymentsis available for titles sold through Google's own Android Market, Amazon may follow suit shortly with the company's own Amazon Appstore for Android.

As an Amazon Associate I earn from qualifying purchases.