Android L & Android 4.4.4 KitKat Release Dates Rumored
A new leak offers fresh details regarding the upcoming Android L release date in addition to Android 4.4.4 KitKat release dates for the HTC One M8 and HTC One M7.
Earlier this month, Google rolled out three major Android updates. The first was Android 4.4.3 KitKat, a bug fix update aimed at tackling Android 4.4.2 KitKat problems. The second, Android 4.4.4 KitKat, a smaller Android KitKat update that delivered security fixes to Nexus users and an update that many manufacturers will use in place of Android 4.4.3 KitKat. Google also announced and released Android L, its next major Android update. The update is only available to developers but it will be released to the public at some point in the future.
Unfortunately, Google did not shed much light on the Android L release date. We also haven't seen many concrete Android 4.4.4 KitKat release dates emerge in the days since its release. And while there are still plenty of pieces to the puzzle that remain missing in action, a brand new leak from a credible source has outed release windows for both Android L and Android 4.4.4 KitKat.
LlabTooFeR, a well known HTC ROM developer and leak artist, has released a new unofficial schedule for HTC's upcoming Android L and Android 4.4.4 KitKat upgrades. The schedule, while not official, is credible enough to serve as a guideline for HTC users and for those that are looking forward to getting their hands on Android L later this year.
According to this leak, HTC is planning an Android L release date somewhere between October and December. He believes that the company is evaluating the Android L update for a number of HTC devices including the HTC One M8 and HTC One M7, devices that HTC already said will get the update within 90 days of the software's release.
He claims that all 2013 and 2014 HTC devices should get the update, that includes devices like the HTC One Max and HTC One Mini, but that the company is still evaluating its plans and that they could change down the road. More details should become available in September or October as we get closer to an Android L release.
The Android L release has been rumored for Q3 or Q4 alongside a new Nexus 8 tablet from HTC and it appears that both could be landing this fall rather than in the summer.
As for Android 4.4.4 KitKat release dates, LLabTooFeR claims that the HTC One M8 and HTC One M7 will get the update in July or August. HTC recently confirmed that the company would be working on an Android 4.4.4 KitKat update for the HTC One M7 in the United States, so this new information helps those details firm up.
He also says that the HTC One Mini 2, HTC One Dual Sim and the HTC One E8 will all be getting Android 4.4.4 KitKat down the road and quite possibly, in the same window as the HTC One M7 and HTC One M8. Specific dates have not been confirmed and it's not clear what kinds of features Android 4.4.4 KitKat will bring when it arrives.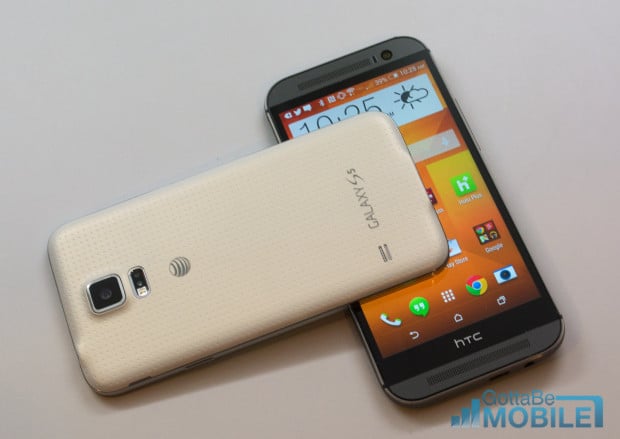 Android 4.4.4 KitKat is a bug fix update so we expect HTC to tack on bug fixes and enhancements for Android and for its Sense UI. The update will likely serve as a bridge for the Android L update that's set to arrive later on this year.
Android L is a much bigger update and it will be delivering a number of changes including improvements to notifications, battery life, the lock screen, and Android's UI. The biggest changes can be seen in action in the video below.
Besides the HTC One M8 and HTC One M7, the Android L update will be heading to Google's Nexus 5 and Nexus 7 though it's not clear if it will be heading to the Nexus 4 or Nexus 10.

As an Amazon Associate I earn from qualifying purchases.