Android L Update Could Fix Nexus 5 Problem
It appears that Google's brand new Android L update might solve at least one Nexus 5 problem which, according to Nexus 5 users, is still a problem inside Google's brand new Android 4.4.4 KitKat update.
Last year, Google announced Android 4.4 KitKat and its rich feature set alongside the Nexus 5, the company's brand new Nexus smartphone. The Nexus 5 went on sale shortly after Google's announcement and promptly took its place amongst Android's elite smartphones. The Nexus 5 ranks among Android's best but like most smartphones, it arrived with some flaws.
In the aftermath of the Nexus 5 release, Google rolled out Android 4.4.1 KitKat and Android 4.4.2 KitKat updates that were aimed at solving some of the initial problems that arrived on board Android 4.4 KitKat. More specifically, the updates were aimed at improving the Nexus 5's camera. As we noted in our review, the update did bring some noticeable improvements to photos shot with the device's 8MP rear shooter. It did not, however, fix the Nexus 5's inconsistent battery life.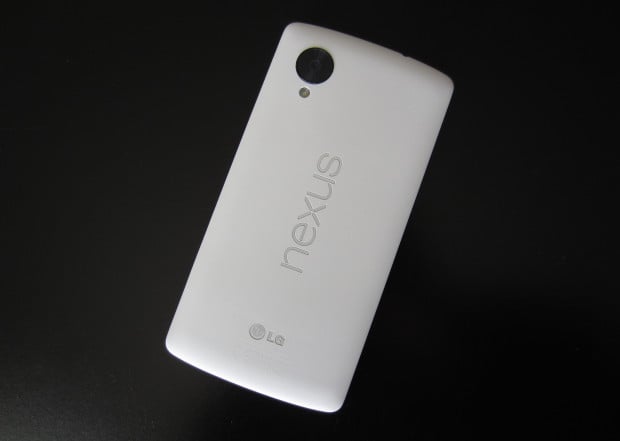 As we noted in our Nexus 5 review and in a follow up review a month later, the Nexus 5 is a solid smartphone. However, its battery life is extremely inconsistent. From our review back in December:
There is no way to spin it, battery life on the Nexus 5 is sub-par, and sporadic to say the least. Some days I get 24 hours out of a single charge with a good 2 hours+ of screen-on time (an important part of battery life claims) and some days my Nexus 5 dies in 7-8 hours no matter how much — or more importantly — how little I actually use it. I can't get a grip on what the deal is, and sometimes it's Google Now (Google services) using more battery than it should, and a reboot helps it out.

That being said, the Nexus 5 still isn't my "go-to" device simply because I never quite know what to expect with the battery. This could be due to Google Now and the launcher working more than usual, location and services data, or something else, but I'm just not 100% confident in the Nexus 5 battery. As a result, I find myself using the Galaxy S4 Google Play edition more, simply because the battery is not only bigger, but more consistent with my expectations.
Nexus 5 battery life problems have lingered in 2014 and as we've pointed out, we're still seeing complaints after the arrival of Android 4.4.4 KitKat, Google's brand new Android 4.4.2 KitKat bug fix update. Nexus 5 owners in particular have taken to Google's product forums to complain about abnormal battery life inside Google's brand new software.
Fortunately, it looks like Google's next major Android update could turn things around for Nexus 5 users experiencing poor battery life. Android L, the company's next major Android release, was recently released to Android developers. And as the smoke has settled, we're starting to see feedback regarding its key features.
One of those features is Project Volta which Google says is "our effort to make the platform energy efficient and to give you more control over resource usage." In simpler terms, it means that Android L should deliver improved battery life to Android devices. And thankfully, it appears that the update will not disappoint.
Tests performed by ArsTechnica show that the Nexus 5 received a significant battery life boost after bumping up from Android 4.4.4 KitKat to the Android L developer preview. By their estimate, the Nexus 5 gets thirty-six percent more battery life on Android L. That's two more hours of use and that's a significant increase and one that would certainly please those plagued by battery life problems since launch.
While we'll reserve judgement for later in the year, we should note that we've noticed better battery life on one of our Nexus 5's running the Android L developer preview. We've also noticed that the device has much better standby battery time, something that was a problem in Android 4.4.2 KitKat and remains a problem inside Android 4.4.4 KitKat.
All in all, this appears to be a win-win for Nexus 5 users. Users that aren't experiencing battery life issues should get a bump and Nexus 5 owners that are dealing with problems should also see a difference with the Android L update. Of course, mileage will almost certainly vary and we could see some differences between the developer preview and the public release.
Android L is expected to touch down later this year though Google still hasn't offered a release window. Android L rumors put the release date somewhere between October and December alongside a new Nexus 8 tablet but that remains unconfirmed.

This article may contain affiliate links. Click here for more details.