Android Netbook on the Way?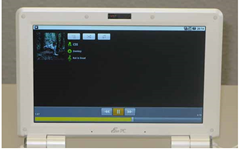 I'm sure we are going to see this sooner or later, and I'd vote for sooner rather than putting it off. Netbooks, or whatever we are going to end up calling them, seem to be tailor made for something like Google's Android. After all they started out as a Linux alternative to Windows.
So, this article at VentureBeat that shows an Asus Eee PC 1000H running Android. Turns out the VentureBeat folks also run a start-up called Mobile-facts and under that guise did some hacking and managed to get Google's OS installed and running.
As the article points out there is great opportunity in the Netbook or whatever it will be called market. Of course you knew that, because that's why Microsoft is making all sorts of noise about Windows 7 running on Netbooks.
Check out more pictures on VentureBeat

As an Amazon Associate I earn from qualifying purchases.