Android Pay vs Samsung Pay: What's the Difference?
This week Google officially released Android Pay, the search giants new wireless mobile payment solution that looks to replace Google Wallet while taking on Apple Pay and Samsung Pay at the same time. There's a lot of confusion between the two, how they work, or which one is better. Below are a few key details about both.
At Google IO earlier this year Google gave users a quick glance at Android Pay, showing that the company looked to deliver easy, safe and secure wireless mobile payments to all Android smartphone users. However, Samsung likes to do things their own way and have another method that's even better.
Read: Android Pay: Everything You Need to Know
Samsung Pay does nearly everything Android Pay does, and more, and works virtually anywhere that accepts a debit or credit card, rather than only select locations. Technically it's the better method, but it's locked down to select Samsung devices only, while Android Pay works on all Android 4.3 Jelly Bean and above devices with NFC capabilities. Read on for all the details.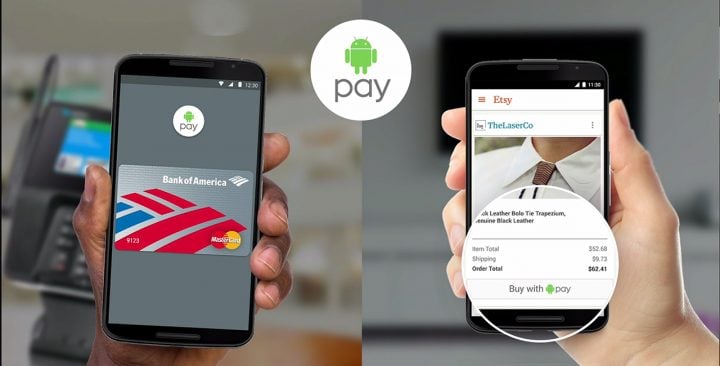 Starting this week Google is updating the Google Wallet app on the Play Store to Android Pay, and once users receive the update they can start enjoying the service right away. It only works with select banks, credit cards, and in certain areas where Apple Pay is accepted, or PayPass, and has a few limitations. The excitement around Samsung Pay is the fact that it bridges the gap between regular swipe methods, and wireless payments like Google and Apple, and does both. This is a big deal, and something everyone with a new Samsung device should be excited about.
Back in March along with the Galaxy S6, Samsung Pay was announced, but it's still not available for the majority of the public yet. However, it has a lot of users excited and will officially launch in the United States on September 28th. Samsung currently has an open beta for those who'd like early access, and has confirmed 20,000 people are signing up per day.
What's the Difference (How it Works)
Wireless mobile payments are extremely easy. Once a user adds a credit or debit card to the account and phone all you need is a smartphone to pay for goods while out and about. This works at Gas Stations, Starbucks, select Pepsi and Coke vending machines, McDonald's, and thousands of retail stores through the United States. Below is an image showing a few of many retail outlets with full support for Android Pay.
Simply check-out at any store that accepts Android or Apple Pay (or you see the WiFi-looking "PayPass" sign below, and all a user needs to do is launch Android Pay, tap the phone against the terminal, and that's it. The NFC (Near Field Communications) chip inside the phone sends the information, and completes the transaction. A pin or signature may be required.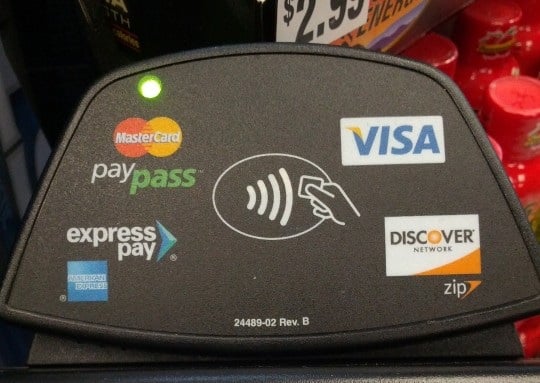 The image above is what you're looking for to use Samsung or Android Pay with smartphones, but it may not be present on all terminals. Anywhere that accepts Apple Pay works with Android and Samsung Pay as well, so look for that as well.
Tap. Pay. Go is what Google has been saying, and that's exactly how it works. It's extremely convenient, but doesn't work everywhere just yet.
However, Samsung Pay is the best solution of them all, and works everywhere. Samsung Pay uses the same NFC payment method as Google or Apple, but is also backwards compatible with regular swipe-based credit card machines (MST) that read the magnetic strip on debit cards. Samsung acquired a company called LoopPay, and integrated it into the Galaxy S6, Galaxy S6 Edge, Galaxy Note 5, and Galaxy S6 Edge Plus.
What this means is those with one of the above devices and an invite to Samsung Pay (or after September 28th) can simply walk up and tap a Samsung Galaxy or Note to a wireless payment terminal, or regular terminals throughout the United States. It uses both methods, so works essentially everywhere. I've been enjoying Samsung Pay for the past two weeks and find it extremely convenient.
This makes Samsung Pay better than both Google and Apple's method, as it truly works everywhere. I've used it over 30 times in two weeks, and it works everytime, in less than one second. Samsung Pay also is easier to access. Rather than open the Android Pay app to make payments, users can slide up from the homescreen, or the lockscreen, where a small lip is and instantly launch it, tap the fingerprint scanner for security, and make a payment.
Android devices will need to enter a pin, passcode, or pattern, and select devices with fingerprint scanners will have that ability as well, especially once Android 6.0 Marshmallow arrives later this year.
Android Pay
Starting September 10th, all the stores listed below along with hundreds of others all support mobile payment methods from Apple, Android and Samsung. This is just a small list of initial launch partners, and more will be coming soon.
Android Pay supports credit and debit cards from American Express, Discover, MasterCard, and Visa. Google confirmed that Citi and Wells Fargo will be available within the next few days, or early next week, while Capitol One is "coming soon."
It's also worth noting that banks like USAA, US Bank, Navy Federal Credit Union, many regional banks and more all support Android Pay. However, if your bank is not on the list, Android Pay won't work yet. Google confirmed they're busy working with more and more banks to get access and have full support, but this list has almost all the supported options at this time. More may be added down the road.
Samsung Pay
For those who'd like to enjoy the freedom that is Samsung Pay, you'll need one of the select new devices with full support, a beta invite until it launches on September 28th, and only certain credit cards and banks work right now, but more will be added as soon as possible.
To participate in Samsung Pay users need to have a Samsung Galaxy S6, Galaxy S6 Edge, Galaxy Note 5, or the Galaxy S6 Edge Plus, and a beta invite or wait for the release date mentioned above.
Above is a list of supported carriers and credit cards. Users will also need an active Samsung account, for security. It also works with Merrill Lynch consumer credit cards, U.S. Trust consumer credit, debit cards, and Elan Financial consumer or small business Visa credit cards.
For now Apple and Google both have more banks on board that support their payment solution, but Samsung Pay works everywhere. Hopefully Samsung can continue to add more and more partners, as it's the best method available right now.
Mobile payments are here to stay, and now that Apple, Google and Samsung all have options available for users, nearly everyone can make purchases safely and securely with their Android smartphones, or iPhone. For now Samsung has the upper hand with backwards compatibility, and we'll update as soon as more banks, credit cards, and companies jump on board to support wireless payments.