Android Pay: What You Need to Know
This morning Google confirmed that Android Pay will be available starting today, and is rolling out as we speak across the United States. Earlier this year Google officially announced Android Pay, a new way for smartphone users to make wireless mobile payments anywhere Apple Pay was accepted. It's like Google Wallet, but will be the future of mobile payments on Android.
Google Wallet has been around for a long time and works very similar to Apple Pay, but it has never been all that popular. It was somewhat confusing to use, wasn't supported by most credit card companies or banks, and carriers blocked the mobile payment initiative at first.
That is all about to change though, as Google Wallet (now Android Pay) is accepted everywhere that Apple Pay works, which is any and all payment terminals with a Tap and Pay NFC system. They're in millions of stores around the US, on vending machines and more. Read on for everything you need to know about Android Pay.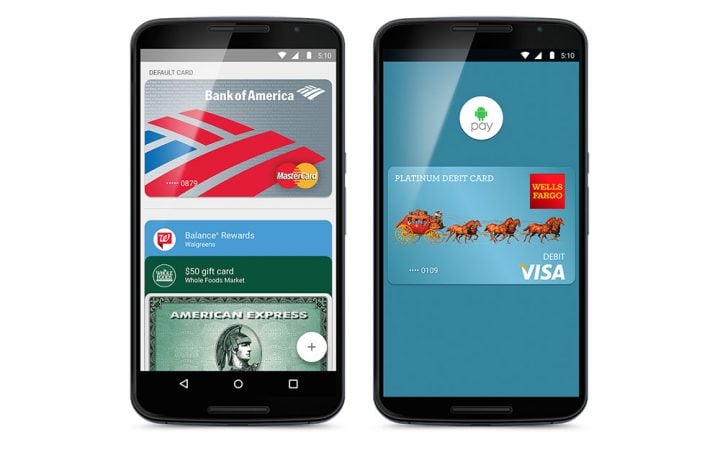 Android Pay will replace users Google Wallet app, although Google Wallet will remain in a sense, available as a way to manage royalty cards, send and receive money, and a few other things. This means an update will be rolling out sometime today and this week, that will turn Google Wallet into "Android Pay". For those wondering what's new and different, or how it works, we have all the details.
How it Works
Just like Apple Pay, Android Pay will work anywhere that accepts mobile payments via the tap and pay NFC solution. Also known as PayPass, which can be seen in the image below. Most terminals at select gas stations, Starbucks, retail stores, and even vending machines all support NFC mobile payments. Users will want to look for the logo shown below, although anywhere that claims to accept Apple Pay will work too, even if users don't see the image shown below on the payment terminal.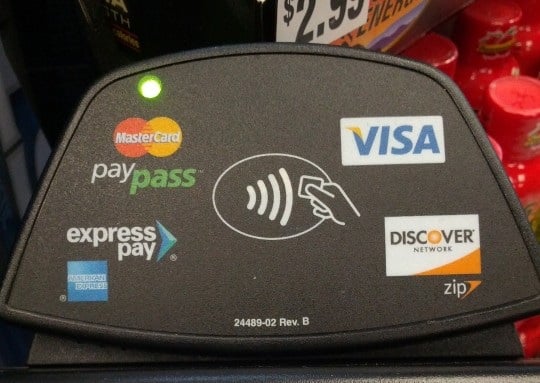 To use Android Pay, simply download Google Wallet and the soon to be released Android Pay app, set up everything and add an accepted and supported credit or debit card, and you're all set. From here it's all extremely easy. Just walk up, open Android Pay, put in a pin (or use a fingerprint with some Samsung devices) and Tap your Android smartphone up against the terminal.
The payment completes via a wireless transaction using a secured method called NFC. Each payment uses a secure token to protect data, credit card numbers and more, and Google (along with Apple) claim this is completely safe and secure.
Cashiers simply accept the transaction just like they would if a customer swiped a credit or debit card, and you're all set. Some users will need to enter a pin or sign the receipt, and you will be on your way.
Where It Works
Android Pay works anywhere a mobile payments system is in place, like shown above. Android Pay will also be accepted anywhere that uses Apple Pay, as it works the exact same way. Below is a small list showing many popular retail outlets with support for Android Pay, although thousands of other places use it as well, and more will be added in the near future.
At launch, which is today September 10th, all the stores above officially support Android Pay. Many of them have for a long time and worked great with Google Wallet, but will now be even easier and more widely adopted with Android Pay rolling out to all Android 4.3 and above devices with NFC support. Almost all major smartphones have NFC (sorry OnePlus 2 owners) and as long as NFC is turned on it will work at all the places above, and thousands of other stores, gas stations, vending machines and more throughout the United States.
Supported Credit Cards or Banks
Android Pay supports credit and debit cards from American Express, Discover, MasterCard, and Visa. Google confirmed that Citi and Wells Fargo will be available within the next few days, or early next week, while Capitol One is "coming soon."
It's also worth noting that banks like USAA, US Bank, Navy Federal Credit Union, many regional banks and more all support Android Pay. However, if your bank is not on the list, Android Pay won't work yet. Google confirmed they're busy working with more and more banks to get access and have full support, but this list has almost all the supported options at this time. More may be added down the road.
Google Wallet worked with all banks and cards, as it wasn't using the same system, and Google was paying fees on the backend and using a digital card number to complete transactions. This wasn't ideal, but Google was trying to push mobile payments. This means that some users who enjoyed Google Wallet may not have a supported card or bank with Android Pay. However, Android Pay will work better in the long-run, and more banks or cards will be supported in the future.
For now most major cards are accepted, and most banks as well. I've been using Google Wallet with Bank of America and a Visa/Mastercard for nearly two years, and more recently Samsung Pay, which is a similar option but works everywhere, not just at Tap n Pay terminals.
Android Pay inside Apps
Google goes on to mention that Android Pay will also work inside of select apps on the Google Play Store. Meaning those buying goods through apps like eBay, maybe Amazon, and many other apps will be able to simply tap an Android Pay checkout option, and pay with a pincode through Android Pay, rather than entering in their credit card information.
Google mentioned that various apps and select merchants will get loyalty card and special offer support down the road, all available through the Android Pay app.
Right now we're still seeing Google Wallet in the Google Play Store, but as soon as we have the official Android Pay app, we'll update with a download link for those wanting to try it today. That said, updates should begin hitting the Play Store today, and continue to arrive in the usual staggered rollout fashion throughout the weekend.

As an Amazon Associate I earn from qualifying purchases.