Android Tablets vs. Windows 10 Tablets: What To Buy
Electronics maker Apple sparked a war for the future of the computer knowingly when it unveiled the first iPad. That device found some comfortable balance between making things easy to use and giving users the screen real estate they needed to comfortably keep their notebook in a desk drawer at home. Both Google and Microsoft recognized the importance of tablets soon after.
For its part, Microsoft helped explore the category early on before abandoning all its efforts. Google responded to the threat of the iPad fairly quickly, releasing its Android Honeycomb operating system for hardware makers to create their own tablets. It wasn't until then that Microsoft seemed to realize the error in walking away from the tablet category to begin with. The company reversed course on all fronts, introducing its own Surface-line of PCs and bringing Windows to tablets with Windows 8 and Windows 8.1. New Surface tablets, and the tablets made by some other companies, run Windows 10, Microsoft's single experience for notebook, desktop, tablets and smartphones.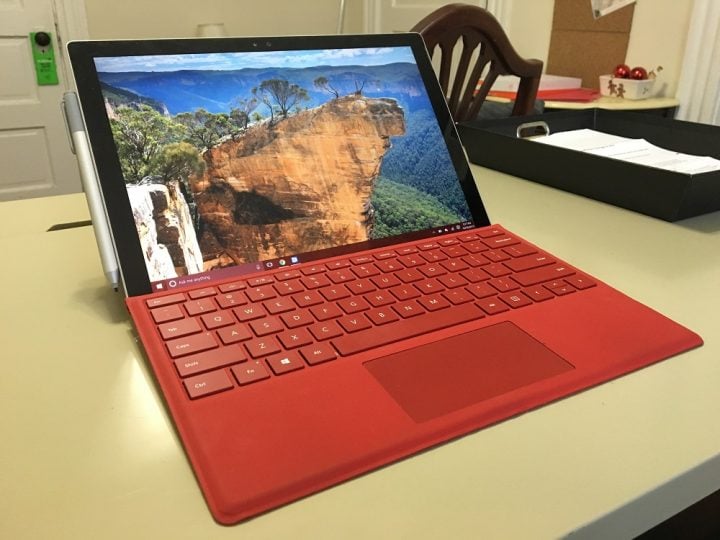 Some say that Windows 10 tablets and Android tablets aren't that different, that they do the same things. Those people are wrong; Google and Microsoft have taken divergent paths with their tablets and which of them you purchase has everything to do with what kind of tablet you actually want.
Android Tablets vs Windows 10 Tablets: Internals
The differences between Microsoft and Google's approach is immediately evident when you examine the devices that are available on store shelves. Fearing Apple's dominance of the high-end PC space, Microsoft decided to build its own premium tablets. Microsoft and its partners are banking on device convergence, the idea that you'll want just a single device for everything that you do.
Google takes a different approach with Android. There are thousands of different Android tablets, many of them official and some of them unofficial. There are small tablets with 7-inch displays for users who just want to watch movies and read books. There are some productivity-minded tablets in the Android ecosystem. For example, the new Pixel C tablet is productivity focused. Reviewers have concluded that it's actually Android that's holding that device back.
Read: Google Pixel C: 5 Things I Learned the First Day
The quality of the Android tablet that you get is only limited by the amount of money you're willing to spend. The open nature of Android and hardware creator's constant need to offer the best processors in their tablets, have made Android the place to be for raw power. The Samsung Galaxy Tab S 8.4-inch as a processor with eight different cores, meaning there's virtually nothing that it can't do. It also has a high-resolution 8.4 AMOLED display. That's some incredible screen technology with very deep blacks and vivid colors. The Samsung Galaxy Tab S 8.4-inch sells for $399.
Quickly iterating on designs, Android tablet makers often take riskier bets than other hardware makers. Lenovo's Yoga Tab 3 Pro has a 10.1-inch screen and a built-in media projector for $449. Gotta Be Mobile reviewed it recently, calling it the best media tablet running Android yet.
Read: Lenovo Yoga Tap 3 Pro Review
Android tablets can get very, very cheap too. The Lenovo Tab 2 A7 costs just $89.99 regularly. It has a quad-core processor and 7-inch display. Android devices very in color, size, price and connectivity. All of them come with Wi-Fi. Some of them are available at T-Mobile, AT&T, Sprint and Verizon with a mobile data plan for always-on connectivity.
Windows tablets have some range too, but the number of the different offerings from hardware makers simply can't touch Android. Rather than try to, Windows 10 tablets are very focused on marrying media consumption and creation. It's not as if you can't connect an external keyboard and mouse to an Android tablet, they just often aren't build with that experience in mind the way Windows 10 tablets are.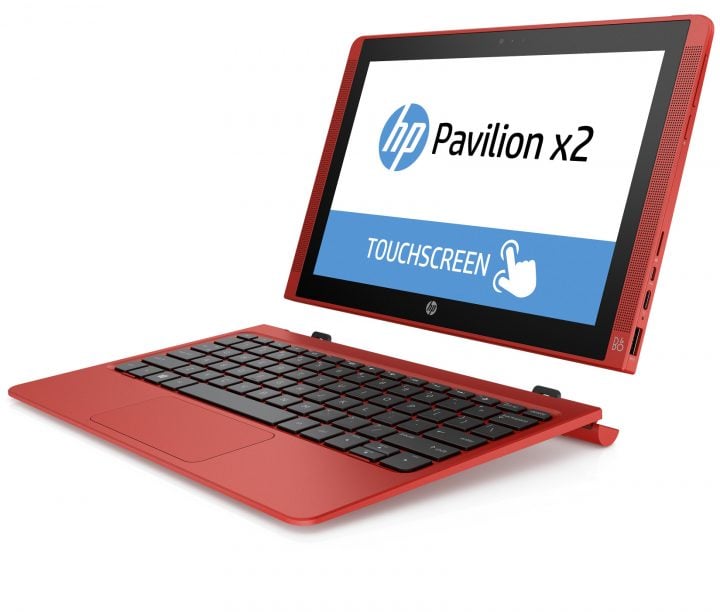 Take the HP Pavilion X2 10.1-inch tablet for example. It has 32GB of storage and a quad-core processor. It also comes with a keyboard dock accessory, something that almost no Android tablet does too. Microsoft has its own app store, called the Windows Store. It's not as well-stocked as Google's Play Store, which would be a problem if almost every Windows 10 tablet didn't come with the ability to install programs like iTunes and more from the web. This device costs $279.
In the high-end part of the market there's the Surface Pro 4 and Surface 3. The Surface 3 is a direct competitor to the iPad, with an Intel Atom processor for running programs and apps side by side. It has a 10.8-inch display and a full-size USB 3.0 port to make connecting to printers and other accessories very, very easy. The $499 base model doesn't have mobile data connectivity, but a more expensive version does. The Surface Pro 4 can't connect to a wireless carrier's networks, but does have a bigger display and an included digitizer. Gotta Be Mobile recently published a Surface Pro 4 review too.
Read: Microsoft Surface 3 Review
Android tablets have the best specs you can find and tons of entertainment apps, but they're still meant as companions to other devices. Microsoft is betting that you want something that can be both a main computer and a tablet. Which side of the spectrum you fall on dictates which operating system you'll like best.
Android Tablets vs Windows 10 Tablets: Software
Each platform's hardware advantages bleed into their software design.
Windows 10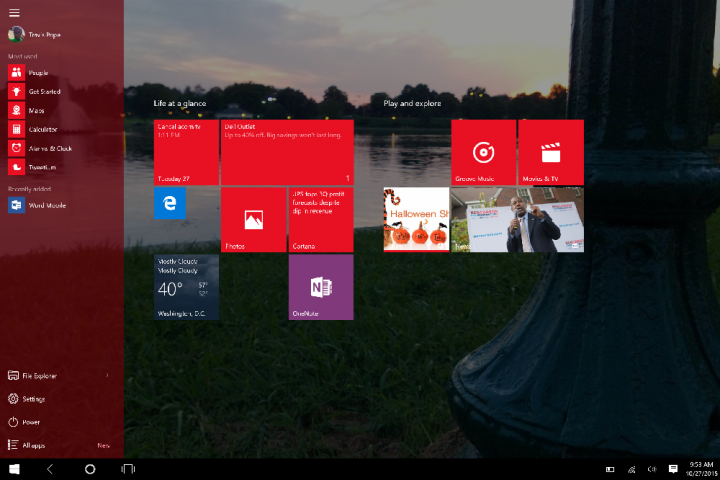 Being meant for both work and play, Windows 10 tablets employ a number of hardware tricks trying to strike the right balance between laid-back media consumption and working on Word documents and PowerPoint presentations. You may have heard that Windows 8 got the balance all wrong. Whoever you heard that from was right.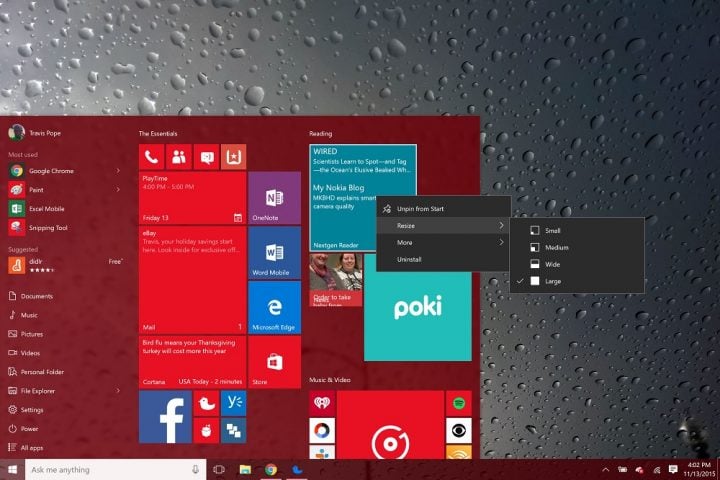 Windows 10 introduces tricks to make moving from notebook replacement to iPad rival easier. Adding or removing a keyboard toggles Tablet Mode. When Tablet Mode is on, apps take up the entire screen and on-screen elements get bigger. Tapping on the Start button gets you a full-screen menu complete with automatically updating tiles. When Tablet Mode is off, the Start Screen becomes a Start Menu and apps can be used with a mouse and keyboard. Again, apps from the Windows Store run side-by-side.
Read: Windows 10 Review – A Love Affair
Windows users can run two apps on their screen in Tablet Mode at the same time, something that Android has yet to implement. There's support for multiple users too. Microsoft makes a big deal out of supporting mice, keyboards, touch and styluses effectively.
Android
Android is exclusively a touch-centric operating system. That's ok though as that's the way most users want to interact with their media tablets. Everything is just the right size for tapping.
Some Android hardware partners have made changes to the operating system, adding in things like the ability to run two apps at the same time. That's not universal though, which is a bit unfortunate. Android does have multiple user accounts so that you can segment your child's games and apps from your own without a long setup process. You'll collect a lot of apps, because Android has thousands in its store. Windows has yet to catch up. I should also mention that all of your Android apps and purchases from a phone sync over seamless. Windows 10 has this too, but hardly anyone has a Windows Phone.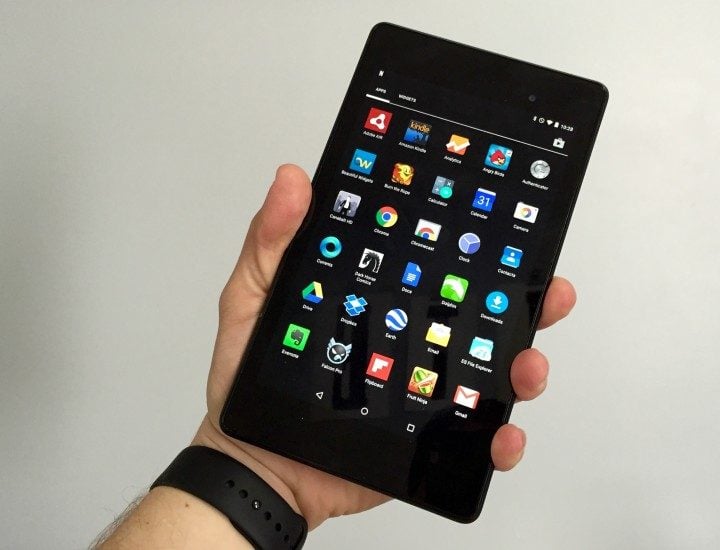 It might be helpful for you to think of Android as a supersized smartphone. It's made for completing tasks one at a time and switching between those tasks quickly. Reading, watching and listening are great activities for Android tablets. Creation is best on Windows 10 tablets for now.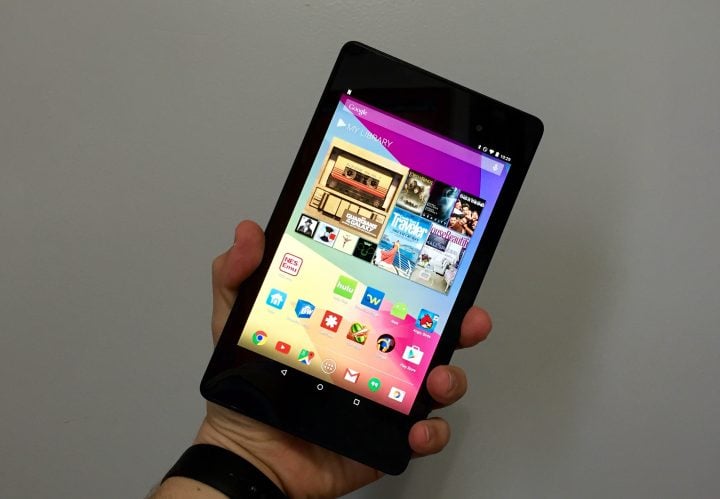 Security is a concern for both Windows 10 tablets and Android tablets. In recent years, app developers have targeted the Google Play Store for delivering malware in the same way that they attacked Internet Explorer on Windows in year's past. Most tablet makers include software on their device for scanning every app download to protect against threats like this. Windows is still a target for hackers, but it does seem to be a less fruitful one. Microsoft includes its Windows Defender security software on Windows 10 devices for free.
Android Tablets vs Windows 10 Tablets: Which To Buy
Whether you should purchase an Android tablet or Windows 10 tablet depends on your needs. Some don't need or want to be able to add a mouse to their device for a notebook-like experience. That makes sense, those users are after device purity; their tablet is an escape and nothing more.
For those that are looking to slim down their device line-up and keep everything simple, Windows 10 tablets are a fool-proof plan. They offer desktop capable features and full-size USB ports that just aren't found in Android. What's more they boast mouse support, which most don't fully appreciate until they try to edit a document by taping on their screen every few key strokes. Make no mistake; for now you're giving app some apps that are easily found on Android, but that's what web browsers are for.
Like notebooks before them, think about what you want from your tablet and then make a decision.

As an Amazon Associate I earn from qualifying purchases.