Motorola Droid: Do You Feel The Need to Kill?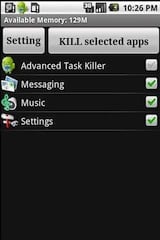 To kill or not to kill?  That is the question Motorola Droid owners are asking themselves lately.  I have been using and enjoying my Motorola Droid since it was released a few weeks ago.  While I am happy with the phone, it is a little rough around the edges and reminds me of when the iPhone and iPod Touch were first released.  Over time, OS upgrades were released and more apps were developed.  There is room for improvement through software upgrades and yet to be created applications.  I expect the same scenario will take place for the Android market and look forward to the boom that lies ahead.
One of the biggest discussions I have found through numerous forums regarding the Droid and any Android handset is the issue of killing applications.  Searching the Android Market, Android's version of the App Store, there are a few popular task killing applications such as Advanced Task Killer and TasKiller.  Since Android supports multitasking, many programs have the ability to run at the same time.  Verizon has even featured the Advanced Task Killer in its section of the App Market.  These programs allow users to terminate or kill any running programs that might be running on the phone.  Typically, a screen pops up with running processes, a selection box allows users to pick which items to end, and the kill button is hit to stop the program from running.
Despite these programs ease of use, the arguments dominating forums indicate that Android has the ability to manage running programs without manually ending programs.  In fact, many folks who identify themselves as having strong technical backgrounds argue that killing processes can cause more harm than good.  They state that killing programs can create programs to forceclose and make the OS run slower.  The opposite argument from those that swear by these task killing programs is that longer battery life and better performance can be achieved by manually managing running programs.
I recently learned my lesson about terminating background processes as I ended the alarm clock which kept appearing.  I thought, "Why on Earth does this dumb alarm clock keep showing up in the background?"  I found out why it was running when it didn't go off the next morning.  After reading through many opinions, I still have the Advanced Task Killer installed but I have stopped using it regularly.  I like having the option to end programs if I feel the need arises, but I will trust Android to do its job.  Thus far, I have not experienced any slowness or issues with performance.
So, what's your take on killing programs in Android?  Are you a murderer?
Additional reading:
Here is a good discussion via Motorola's forums about using task killing programs in Android.