Android TV Represents the Next Evolution of Google TV
As Google is ramping up its efforts to compete in the living room space against Apple TV and various gaming consoles such as the Sony PlayStation and Microsoft's Xbox franchise, Google may be dropping the Google TV branding in favor of Android TV. This would at least create a unified OS branding where Android could be used on phones, tablets, TVs, and even on some low-cost netbooks.
Likely, the move may be done to get more HDTV manufacturers on board as Google is using the more recognized Android branding and dropping its name from the hardware, something that may have been met with resistance as hardware manufacturers would rather keep their own name and brand on their wares.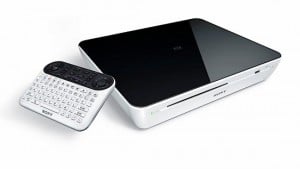 In fact, are already making the switch to dropping the Google TV branding in living room products with the Internet search giant's mobile OS. When Sony had launched its proprietary media stick called the Bravia Stick, it comes with the latest Google TV firmware, based on a variant of Google's Honeycomb Android OS, but the device did not once mention Google TV at its core.
It's unclear when the move would officially happen, but a report on GigaOm suggests another branding would come as "Google services for TV," a label that LG has been using in its latest HDTV hardware lineup.
And Samsung's recently launched HomeSync box is not launching with Google TV. Samsung says the box runs Android and is designed to extend the Android experience of Galaxy users into the living room.
Google had earlier promised that Google TV would get updated to Android 4.2 after having been stagnant on Honeycomb for some time. The move to 4.2 would allow Google TV developers to use the same APIs to develop apps and services as those available for phones and tablets running Google's mobile OS. And with Android 4.4 KitKat just around the corner, Google would make it easier for manufacturers to upgrade their hardware when the Android source code is made available.
And with the shift to Android TV, Google may offer manufacturers more flexibility in designing the connected TV experience, lifting away some of the mandates such as a remote control with a full QWERTY keyboard. Instead, we may see the future of Android TV as fragmented and unique as Android UIs on the phones today. Samsung could potentially have a TouchWiz for Android TV on its HDTV set, and likewise, Sony, LG, and others could overlay their own experiences on top of Android TV to differentiate their own products from each other's.
Still, yet, another approach may be to simplify the Android TV experience to eliminate integration with live TV and take on a streaming approach that's more akin to Apple TV and Roku.
And in addition to Google TV, Google also has a TV accessory in the form of Chromecast, a dongle that plugs into an existing TV's HDMI port and allows users to "fling" content from their phones, tablets, or computers on the same WiFi network to the TV for viewing on a larger display.