Android, Windows 8 Eating Away at iPad Market Share
Though Apple's iPad and iPad mini still lead the industry in market share, tablets running Google's Android operating system and Microsoft's Windows 8 and Windows RT OSes are starting to nip away at Apple's dominance in the slate computing category. Apple reported as part of its earnings call that it had sold nearly 20 million slates in the quarter ending in March, which means the company has over 48 percent of the tablets shipped globally. The figure, while still impressive, is down significantly from the 63.1 percent market share that Apple had enjoyed a year ago.
Android is jumping ahead in market share calculations at Apple's expense. BGR reports that Android tablets now account for over 43 percent of the tablets shipped in the quarter, which is up from 34.2 percent a year ago. And a report from Strategy Analytics suggest that newcomer Windows 8 and Windows RT are doing better than expected, accounting for 7.5 percent of the market.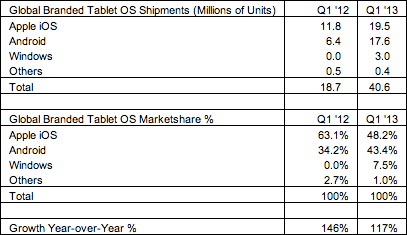 Still, there may be some slight discrepancies with the numbers. Apple typically reports its numbers based on tablets sold to consumers whereas many Android manufacturers report numbers based on tablet shipments to retailers, which may sit in inventories and not reach consumers.
One of the reasons that Android tablets are doing well is that they are priced more competitively. Google and Amazon have set the benchmark with 7-inch slates that perform well at the $200 price point. Apple has yet to match this price as the iPad mini retails for $329 at its base configuration.
The Windows market share number is surprising considering that reviews often cite slates running Microsoft's OS as heavy, lacking in battery life, and lacking in the apps ecosystem.
With Microsoft expecting to reduce its hardware requirements for Windows by the end of the year through a new software update that would allow OEM partners to build even smaller tablets, reaching the 7- and 8-inch display size, we can expect to see adoption increase as prices drop and the portability factor increases.
Tablet shipments reached an all-time high of 40.6 million units for the quarter according to Strategy Analytics. This represents an increase of 117 percent from the same quarter a year ago.

As an Amazon Associate I earn from qualifying purchases.