Angry Birds Star Wars Episode II Offers Real World In App Purchases
Today Rovio announced that Angry Birds Star Wars Episode II will come out on September 19 and will follow the stories of the Star Wars prequels with new characters and a new Skylanders-inspired feature that combines real world purchases with in game unlockable characters.
Angry Birds Star Wars Episode II will introduce the new Telepods feature which will let gamers bring Angry Birds figurines into the game. Like the Skylanders figures, gamers will bring their toys into the game by buying them at store and placing them on a portal that will bring them into the game. They're like in-app purchases you can buy in a toy store.
With Telepods gamers can customize their lineup of characters in Angry Birds Star Wars Episode II. Placing a figure on the portal will replace the current bird in the slingshot with the bird on the portal. With the feature gamers can make the game easier for themselves by selecting a particularly powerful bird, or by just replacing a bird they hate using.
As hinted in the teaser last week, Angry Birds Star Wars Episode II will follow the story of the Star Wars prequels, starting with Episode I: The Phantom Menace. The games will feature a huge selection of characters, even more than previous games in the Angry Birds series.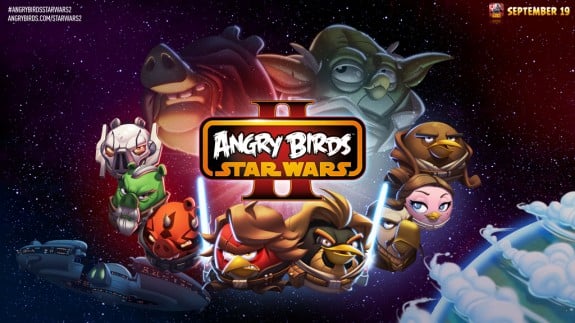 Rovio was able to increase the number of characters by giving players the option to play for The Dark Side (called The Pork Side in the game). Playing with the Sith will let players control characters such as Darth Maul who will throw his dual lightsaber at the unsuspecting pigs.
Each of the new characters in the series such as Qui-Gon Jinn and young Obi-Wan Kenobi will come with new powers and abilities, making the game more than just a reskin of the first Angry Birds Star Wars. Plus players can buy a Yoda figure and use the Jedi Master at any time, which is a nice feature.
Thankfully, Jar-Jat Binks isn't highlighted anywhere in the announcement.
Angry Birds Star Wars Episode II will come to iOS, Android and presumably other platforms on September 19.

As an Amazon Associate I earn from qualifying purchases.