Angry Birds Star Wars Will Tackle Prequels: Is Jar-Jar Binks Incoming?
A new teaser from Rovio hints that Angry Birds Star Wars will go beyond the original trilogy and cover the story of Episode I: The Phantom Menace in a future update.
Today Rovio released a teaser image for Angry Birds Star Wars along with a promise that it will have more news to share on Monday, July 15 regarding a brand new game. The new game will feature new powers and the largest lineup of characters ever in an Angry Birds game.
The teaser image is a recreation of the first poster released for Star Wars Episode I: The Phantom Menace using Angry Birds characters and art design.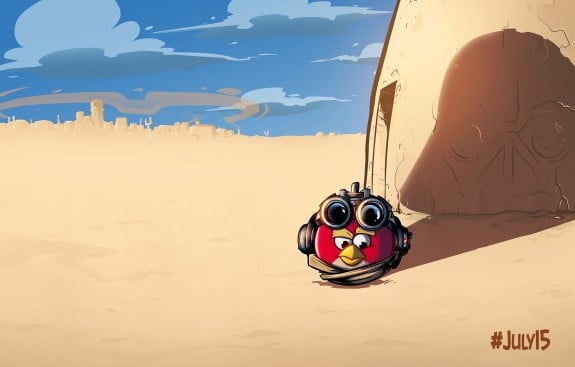 The image shows the red bird playing the role of young Anakin Skywalker on Tatooine. Anakin stands in front of a house on his home planet and his shadow is an image of a Bad Piggy playing the role of Darth Vader. There's a Tatooine city in the background of the image, but otherwise it's all just brown sand and blue skies.
Covering the Star Wars prequels should open the possibilities for more characters the angry birds can assume the roles of. The Phantom Menace can introduce characters such as Qui-Gon Jinn, padawan Obi-wan Kenobi, Princess Padmé and incomplete C-3P0. There's also the chance for the Bad Piggies to portray Darth Maul and Darth Sidious.
With any luck the game will focus more on pod racing than Jar-Jar Binks and his Gungan pals.
While the original sequels are all included in the original Angry Birds Star Wars, those who want to play through the story of the prequels will have to buy a whole new game first.
The Star Wars prequels are almost universally disliked by Star Wars fans, though they can introduce some interesting new puzzles for Angry Birds Star Wars. If nothing else it means Angry Birds fans get more of the more interesting entries into the popular series.

As an Amazon Associate I earn from qualifying purchases.