Apple App Store Generates Twice As Much Revenue As Android Market In 2011
Distimo, a mobile analytics firm, has just put out their year-end report on mobile app store numbers, including total apps and revenue generation. It's no surprise that developers are making the most money from selling iPhone and iPad apps, though the big gap between iOS and Android in this regard may shock a few folks.
The numbers point to one of the major reasons why devs still prefer Apple's App Store to Google's even though Android has gained major market share. It's still possible to make way more money off of iPhone and iPad users.
Yes, issues like fragmentation come into it as well, but you can't deny the power of dollar signs. Until that changes, we can expect companies to continue to launch apps for iOS first, Android second, for the foreseeable future.
The data also shows that while overall sales on the App Store are better, developers who create Freemium apps do far better on Android. Android owners are less likely to buy apps and instead bee-line for the free ones. But once they've downloaded the free apps, they're apparently much more willing to open their virtual wallets.
I wonder if there's any data on how many Android owners choose to upgrade to a paid version of a free app? I'm more likely to buy the pro version of apps I use on a regular basis and I know I can't live without, even if doing so doesn't gain me much functionality. I just want to support the developer.
It's also why I don't complain about ads in apps. Well, except the intrusive, spammy ones.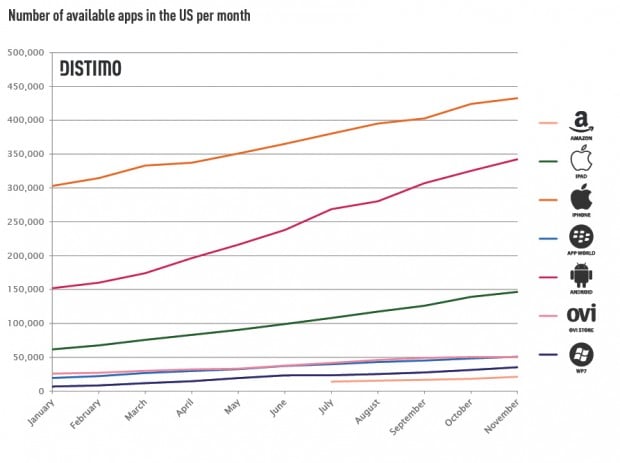 Overall, Android has more free apps than iOS even though Apple maintains the lead on overall apps. The prevalence of free apps on Android is what entices some customers over to Google's phones even though Apple still has the lead on overall numbers of apps.
The lesson gleaned from this study is that if you want to make money with an Android app, go freemium. Or create a game. That's the biggest category in every app store. If you really want to mess with people's minds, create a paid app for iOS and a freemium version for Android.
TechCrunch has the full data set on their blog. It's worth a read if you're a developer trying to decide whereto put your efforts.
Consumers may find it interesting as well. The numbers certainly explain a lot of things about app selection and availability on the various app markets, including Windows Phone, Nokia's OVI, and the Amazon app store.