Appeal of Samsung's Mirrorless Galaxy Camera 2 May Be Limited to Just Consumers
Images of what is believed to be Samsung's mirrorless Galaxy Camera 2 system with interchangeable lenses have been making the web, revealing what looks to be an attractive design with a capacious touchscreen for framing and composing your shots. This would be the first mirrorless camera system in Samsung's NX range that would feature the Android operating system as Samsung is aiming for the enthusiast market beyond that of the point-and-shoot photographers that the first generation Galaxy Camera targeted. However, there is one major problem with the first mirrorless system from Samsung, and prosumers who want more fine tuned camera controls may want to wait.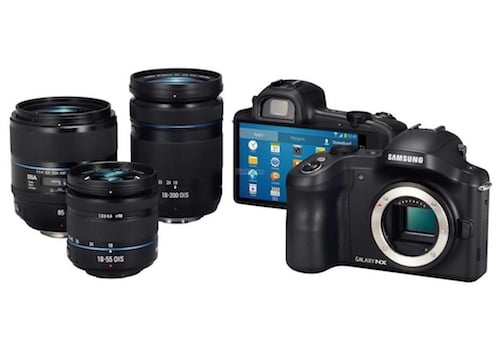 The problem with this camera is that there only appears to be one hardware dial for adjusting your exposure and many, if not all of the camera's controls save for the shutter button, are accessible only via the touchscreen. This is apparent on the newly leaked images from TinhTe.
For prosumers who need quick access to changing ISO, shutter speeds, and aperture, this may present itself to be a problem as diving into the touchscreen takes more time than either having said controls either through dials, jog dials, or on the lens. Hardware dials, which take up space, still are a big draw for consumers. To compensate, Samsung has built a function button onto the lens for its NX series, though it's still a more clunky solution than having two or three dedicated dials.
I had used Olympus' pro-geared mirrorless OM-D E-M5 system for some time before switching to a smaller PEN E-PL5 system. While the smaller form factor of the E-PL5 made that camera more fun and accessible to take everywhere, especially when coupled with a compact prime lens, that device was far more limiting as it lacked dedicated controls for shutter speeds and aperture like the OM-D. If I wanted to be serious with my photography, I'd still pick up the OM-D at the end of the day. The Fuji X-E1 system, which I had reviewed here, has up to three dials. The aperture dial is located on the lens barrel itself, the shutter speed dial is located at the top next to a final exposure compensation dial. This makes it easy to adjust your exposure settings quickly.
Given Samsung's focus on the touchscreen with this Android-based system, the camera may seem to appeal more to consumers who have graduated from the Galaxy Camera. With ISO going up to 25,600, the Galaxy Camera 2 and its interchangeable lenses should take some decent low light shots, even without the built-in pop-up Xenon flash. That said, TechnoBuffalo is reporting that the system could be priced up to $1,300 when released, which at that price may limit its appeal to consumers even.
It's unclear if the price tag is accurate, however, as Samsung's excellent NX300 camera is priced at $700-$750 with a kit lens, and that system is gorgeous. The draw here is the built in electronic viewfinder, or EVF, which will help users compose their photos better, but the EVF may seem redundant as you'd still have to take your eye off of the EVF and dive into the touchscreen to change some of the settings as there is only one dedicated dial for exposure.
It's really a catch 22. It's Samsung's first mirrorless interchangeable lens (ILC) system with Android at its core, and there still appears to be too many tradeoffs, especially given the speculated price at this time. With a larger APS-C sensor, WiFi (it's unclear if 3G or 4G will be built into the system), and perhaps even some of the more creative consumer software features introduced on the Galaxy S4 Zoom.
Another upside is that the camera would be able to use the lenses introduced from Samsung's already established NX mirrorless system, so it would have a pretty good lens selection at launch.
The camera is rumored to be announced at Samsung's London event on June 20th.