Apple and Foxconn Will Work To Improve Pay and Working Conditions
Apple and Foxconn announced a new agreement that would improve the working conditions in the Chinese factory. The agreement, which follows an independent survey from the Fair Labor Association, will result in more workers being hired, increased wages, and crackdowns on illegal overtime.
The Fair Labor Association survey found multiple labor law violations at Foxconn. In three plants with 35,000 workers, the FLA found workers working more than 60 hours a week with unpaid overtime. With the new agreement, Foxconn agrees to limit workers to 49 hours per week, including overtime.
Foxconn will hire tens of thousands of new workers to make up for the difference. That's in addition to the rumored 20,000 hired for the iPhone 5 lines. To accommodate the new workers, the plants will need new dormitories and canteens, which Foxconn will build.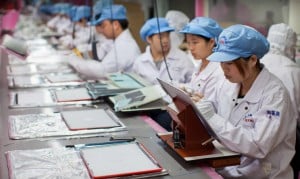 These changes won't just affect Apple. Foxconn will make these changes across the board. Those changes will mean increased costs for Apple as well as Sony, Nokia, Amazon, HP, Dell, and Motorola. Apple is one of Foxconn's biggest partners, but many products are made in Foxconn plants.
The cost increases could mean higher prices for consumers, but we suspect that prices won't increase by much. Labor costs are only a small part of the price of electronics. We can view the extra cost, if any, as the extra cost of decent working conditions for those that built the devices.
When talking to Reuters, FLA President Auret van Heerden said "Apple and Foxconn are obviously the two biggest players in this sector and since they're teaming up to drive this change, I really do think they set the bar for the rest of the sector." With any luck, the new agreement between Apple and Foxconn will mean better working conditions across all major factories in China.
According to the Reuters story, working conditions are worse at Foxconn's smaller competitors. The hope is that these factories will start improving conditions once the world's biggest corporation (Apple) and China's most successful factory owner (Foxconn) start improving their own conditions.
This is just the first step in the process to make conditions better. Apple has taken a lot of criticism for the state of Foxconn's factories, and this agreement along with the FLA report should mean those condition will only get better.
Lets hope that Foxconn follows through with its promises, and that any later surveys find better factory conditions.

As an Amazon Associate I earn from qualifying purchases.