Apple By the Numbers Fall 2012 Edition
Apple announced the new iPhone 5 at their press event in San Francisco today kicking things off with the customary Apple by the Numbers bragging session highlighting their facts and figures. And once again the stats don't lie. Apple's gaudy numbers show a company that shows no signs of lagging during the post Steve Jobs era. Although one stat might give Android lovers a reason to brag.
Tim Cook announced that Apple sold 400 Million iOS devices in total, a number about 20% less than Google's 500 Million Android devices bragged about just yesterday. The iPad accounted for 84 Million of those with 17 Million in the second quarter of this year alone. More iPads were sold that quarter than all other PC makers sold of their entire PC lineup combined.
The iPad holds a 68% market share compared to other tablets up from 62% last year. They bragged that 91% of all tablet web traffic comes from those using an iPad. Cook quipped that he didn't understand what people do with all those other tablets.
They must be in warehouses or on store shelves, or maybe in someone's drawer.
The Apple iOS app store success benefited from these huge numbers. Currently it offers 700,000 apps with 250,000 apps for the iPad alone. That's likely the reason for their huge success compared to Android devices.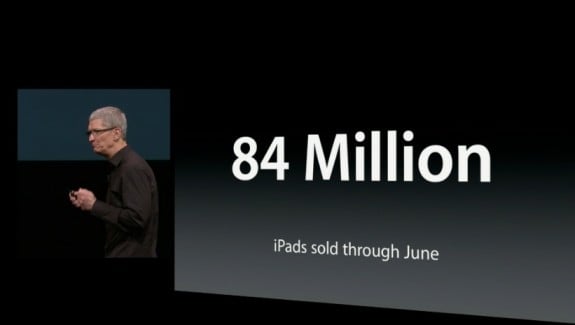 While some complain that most of those apps just flounder, but Cook told attendees that 90 percent of their 700 thousand apps get downloaded per month. Each users downloads more than 100 apps.
Apple mentioned the MacBook Pro with Retina display, but didn't share numbers sold. They did tell us that all of their notebooks grabbed a 27 percent market share during July and Apple ranks #1 in notebook market share for the last three months.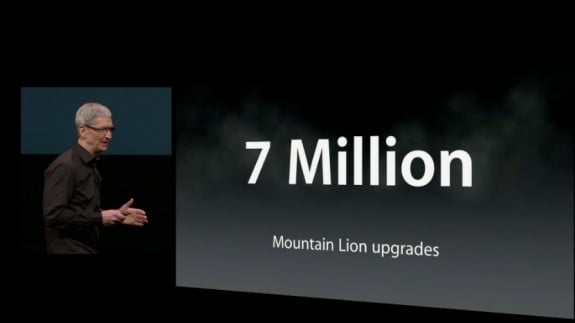 Earlier this year Apple released OS X 10.8 Mountain Lion and since its release users bought 7 Million copies, most of that coming from downloads from the Mac App Store.
The Apple ecosystem gets great customer service from the 380 Apple Stores all over the country. This means a user can just walk into a nearby store to get service, check out new products and learn how to use the Apple devices and software they own.

As an Amazon Associate I earn from qualifying purchases.