Apple CEO Tim Cook Joins Twitter, Apple Becoming More Social?
The day of Apple's iPhone 5s launch is a good day for the company, but CEO Tim Cook has decided to do something he's never done before; and something that very few execs at Apple have done. Cook has joined Twitter and has already sent out his first tweet. So far, he already has over 38,000 at the time of this writing.
Cook's first tweet reads, "Visited Retail Stores in Palo Alto today. Seeing so many happy customers reminds us of why we do what we do."
Phil Schiller and Eddy Cue are the only top Apple executives using Twitter, besides Tim Cook. He's following both gentlemen, as well as a selection of other Twitter accounts, including Duke University's Basketball Twitter page, Steve Jobs' Widow Laurene Jobs, Kings of Leon, Anderson Cooper, Jimmy Fallon, and the JFK Center — the last of which is the place that Cook donated his cup of coffee date money to a few months ago.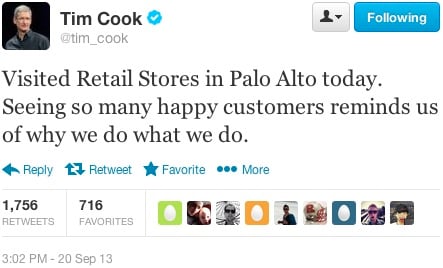 This makes Tim Cook the third top Apple executive to join Twitter, so does this mean Apple will become more social? The company doesn't have a Twitter account or an official Facebook fan page. It doesn't any exposure in the social media realm, unlike many companies nowadays. They do have a Twitter account for the iTunes App Store, but not an official "Apple" account. You always hear that if you want your company to succeed and get more customers, then your brand as to be plastered across social media platforms.
However, Apple has taken the opposite approach, and it seems like things are working fine for them. Because of that, it makes sense for the company to remain off social media, but seeing as how the CEO of the company is now on Twitter, it could mark a slow and careful transition to social media.
Cook's joining of Twitter does come as a bit of surprise. While we knew Schiller and Cue had Twitter accounts, we pretty much assumed that if Cook hasn't joined Twitter yet, then he never would, but here comes on iPhone 5s launch day and surprises us all.

As an Amazon Associate I earn from qualifying purchases.