Apple Confirms October 22 Event, New iPads Most Likely on the Way
As expected, Apple has officially confirmed that it'll be hosting an event on October 22 and has sent out invitations to the press that note that the company "a lot to cover." We're not quite sure what this means, but the invitation is quite colorful yet again, hinting to the possibility that whatever we see come October 22 (new iPads), will come in a variety of colors.
At this event, it's expected that Apple will announce new iPads, specifically a 5th-generation iPad and a 2nd-generation iPad mini. Furthermore, we may hear about new MacBook Pros that will most likely come with new Intel Haswell processors, as well as better life, 802.11ac capabilities and maybe some other smaller goodies as well.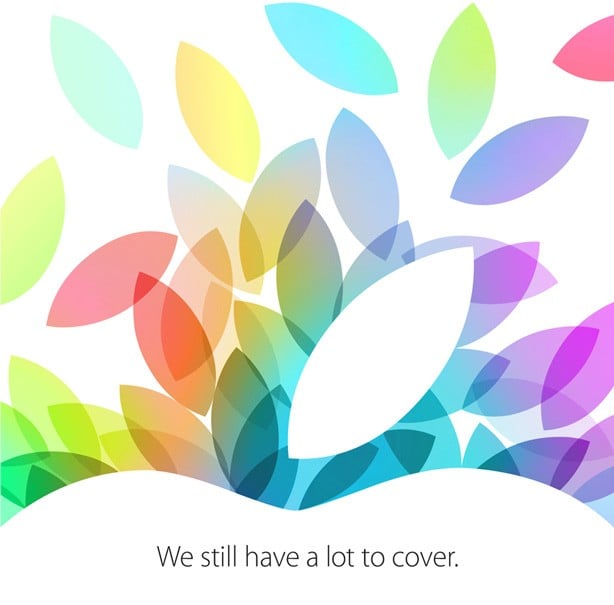 The 5th-generation iPad and the 2nd-generation iPad mini are said to both rock the new A7 chip, which is currently being used in the iPhone 5s. The full-size iPad is also said to come with a new body style that matches the iPad mini's overall shape. As for the new iPad mini, it's possible we could see a Retina display, but that may be a coin flip, as some rumors suggest we won't see that until next year.
If we do see a Retina-ified iPad mini, Apple may keep the older model available at a cheaper cost in order to compete with the Nexus 7, Kindle Fire and other 7-inch tablets on cost. Currently, you can grab the Nexus 7 for as low as $199, so it's possible Apple may come down in price with the non-Retina iPad mini — maybe costing $249 if we had to take a guess.
As for other possible items of discussion during the event, Apple could give us more details on OS X Mavericks and the new Mac Pro, both of which could finally receive an official release date. Apple unveiled the Mac Pro back in June during WWDC. They announced the machine and provided some details on specs, but were mum on a release date. Rumors are currently pointing to a launch sometime in November.
As for OS X Mavericks, we'll most likely see its public release a few days after Apple's iPad event, with the new MacBook Pros launching at the same time.

This article may contain affiliate links. Click here for more details.