Apple Has China In Its Rear View Mirror
China represents a complicated opportunity and threat to American smartphone-maker Apple. After the dominance of the iPhone and later Google's Android operating system led by South Korea's Samsung, China may be leading the charge to fend off foreign competition with its own home-grown mobile operating system. The Chinese government is now backing the China Operating System, or COS, to take on Apple, Android, and Samsung from within its borders, though it remains unclear if COS will have any viability outside of China, especially in western markets like the U.S. and Europe. Now, it looks like in addition to Samsung and Android, Apple has China to compete with.
According to an Engadget report, the COS was developed in conjunction with the Institute of Software at the Chinese Academy of Sciences (ISCAS) and the Chinese government. It's interesting that China chose Taiwan smartphone-maker HTC–rather than a Chinese brand like Xiaomi, Huawei, Lenovo, or ZTE–to lead the COS charge.
News of COS comes just days after Apple CEO Tim Cook had announced a partnership with China's largest carrier, China Mobile, in carrying Apple's smartphones. The deal would give Apple access to over 740 million subscribers on the telecom giant's network. Apple already offers the iPhone on China's other smaller carriers.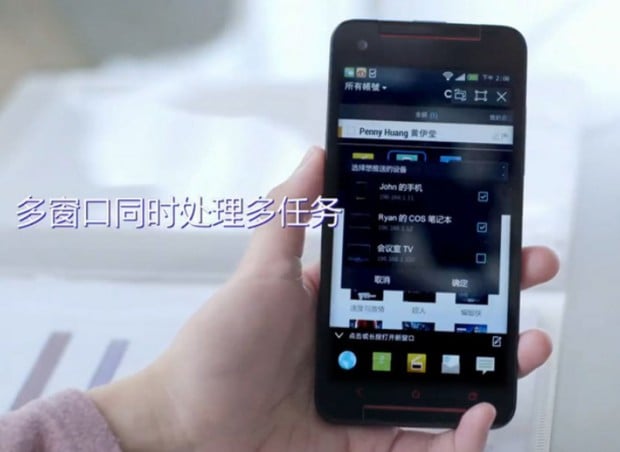 COS itself is based on Linux, and the folks over at Engadget say that the device looks like Android and the software that operated on top of the HTC One and Butterfly S variants look like they were running a UI akin to HTC Sense 5 on the HTC One sold internationally.
And while the iPhone is still a popular device in China, Android is still the leading platform with numerous home-grown Chinese manufacturers releasing low-cost smartphones based on Google's mobile OS. The move by the Chinese government to enter the smartphone OS space isn't too surprising as it would give the government more control over the Internet, but also may help China grow into dominance in the sector if COS expanded outside of China and into more established markets.
Still, freeing itself from the shackles of Android is nothing new. Samsung, which had helped to popularize Google's mobile operating system, is beginning to explore other options, including a partnership with chip-maker Intel in launching smartphones based on the Tizen operating system.

As an Amazon Associate I earn from qualifying purchases.