Apple iPhone 5 is Nice, but Galaxy SIII Remains My Phone of Choice
Today Apple announced its new iPhone 5 with a slightly larger 4-inch screen that's only taller and not really bigger in the best ways. The iPhone 5 also offers some other great new features like 4G LTE and of course iOS 6. But that's not enough to make the iPhone 5 my phone of choice.
While I'm going to get the new phone as a replacement for the iPhone 4S I use as my family line, I'm still going to rely on the Samsung Galaxy SIII (even without a Jelly Bean update) as my daily driver for the most important tasks for a number of reasons. I'm only bothering to upgrade my family line phone because I want to write about it here at GottaBeMobile and it comes with 4G LTE from Verizon, which just hit my neighborhood in June.
So why not use the new Apple wonder as my daily driver?
Screen's Not Really Bigger, Not Where It Matters
First, the screen size of the Galaxy SIII whips Apple's new "bigger" screen. The iPhone 5 boasts a 4-inch screen but going taller and not wider means the display grew but nothing on the screen got bigger. I want a bigger screen so I can read small text and watch video when I need to while on the go. Using the same width means that the iPhone 5 now offers a wide aspect ratio so video gets a bit bigger, but text and images will remain the same size, giving no practical improvement where it matters to me.
iPhone 5 Only Catches Up to Android
Second, most of the new features of the iPhone 5 simply bring the phone up to par with modern Android phones like the Samsung Galaxy S III. Here's a few examples of how the iPhone 5 and iOS 6 finally catch up with the Samsung Galaxy SIII:
4G LTE – my area got Verizon LTE later than most, but I've still been able to connect for months now
Turn-by-turn directions and 3D modeling in the maps
A replacement for Google Wallet called Passbook
Expansion to Siri's capabilities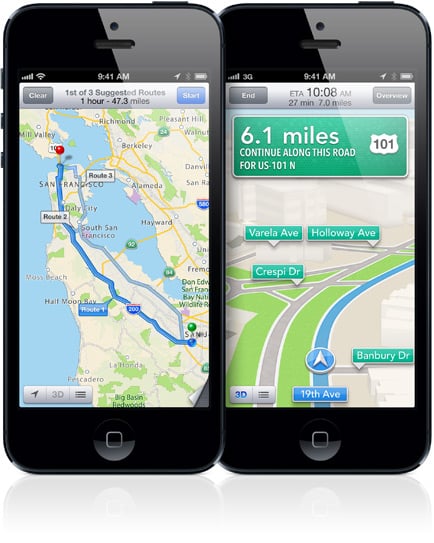 I'll buy the iPhone 5 and use it. It looks like a great phone. But it won't replace my daily driver and will sit at home as our family line instead of the phone I carry most for daily use. If I didn't write about technology, I seriously doubt I'd bother upgrading. Without 4G, I know I wouldn't upgrade. My colleagues would get to write all the iPhone 5 stories, which they'll do most of anyway since many plan to upgrade excitedly. Apple will likely sell millions out of the gate, but at what point does their policy of glacially slow innovation start to hurt? For many, I believe that time may come soon. It feels like Apple's starting to coast. I wish we'd all just hold back for a generation and show Apple that they need to get more creative, kind of like they did when they introduced the iPhone and the iPad.