Apple iPhone 5s vs. Nokia Lumia 925: What To Buy
That there are very few smartphones that can directly compete with Apple's iPhone 5s smartphone isn't up for debate. Even now, seven full years after Apple introduced its first iPhone, competitors are struggling to directly compete with it. Chief among the devices made to rival the iPhone is the Nokia Lumia 925.
As Nokia's first modern smartphone made out of metal, the Lumia 925 is almost exactly what some users might picture as the perfect Windows Phone competitor to the iPhone 5s. Its screen size and exclusive Nokia-made applications and features make it the closest thing to a true iPhone competitor Windows Phone users have seen. So how do the iPhone 5s and the Nokia Lumia 925 stack up, and which should you buy if you're AT&T or T-Mobile? Let's take a look.
Design
Make no mistake about it. Both of these devices have been designed to the hilt and the both come with the premium materials that modern smartphone buyers crave. How each approaches that same user – the person who hungers for a smartphone that doesn't feel cheap – is completely different, however.
iPhone 5s
Apple's latest device, the iPhone 5s uses the same design as the iPhone 5 ,and to a certain extent the iPhone 4s. Its front consists of a flat piece of glass that covers the areas above and below its 4-inch display. That glass only has two holes, a small pill-shaped speaker grate and a rounded out home button that comes complete with a metal ring around it. The device's sides are flat and each corner is also rounded out. At the bottom of the phone is an Apple Lightning port, the headphone jack and individually drilled speaker holes. Finally, the back of the device mixes metal and glass and an embossed Apple logo. Flanking that logo is a rear-facing 8 megapixel camera.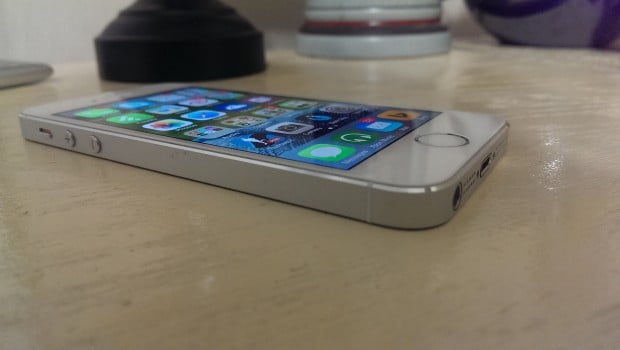 The tactile feedback when a button on an iPhone 5s is pressed feels substantial and every angle looks expertly crafted. That won't come as news to buyers of the iPhone 5, but it must be said. This still is a great looking design – despite it being a year-and-a-half old at this point.
Read: iPhone 5s Review: 100 Days with Apple's New iPhone
Lumia 925
Like the iPhone 5s, the Lumia 925 uses two different materials throughout most of its design. Unlike the iPhone 5s, neither of them are glass. To be clear, the device's front is mostly covered by glass, but its rear consists of the same polycarbonate plastic that Nokia has made entire members of its Windows Phone family out of before.
On its front are a pill-shaped speaker hole and a front-facing camera. Below its 4.5-inch display are the customary Windows Phone keys that every device with the operating system is required to include. There are no physical buttons on the Lumia 925's front. Instead, they're all touch sensitive keys that glow in the dark and vibrate when touched.
The edges of the Lumia 925 harbor all of the physical keys and ports that users need. Interestingly, enough none of them are on the left side or bottom edge of the device. Metal volume, camera and power buttons reside on the right edge of the Lumia 925. The headphone port, micro-USB port and SIM card slot are all on its top. It should be noted that the Lumia 925 heavily borrows the metal ring/antenna approach that the iPhone 5s uses. Instead of being flat, these edges are rounded out.  Where the device really stands out is its rear.
A rather large 8 megapixel camera equipped with Nokia's PureView imaging technology protrudes from its polycarbonate plastic rear. It's flanked by the Nokia logo and an LED flash. Below all of these things is the Lumia 925's speaker grill and three metal contacts that allow the phone to be used with a wireless charging accessory that costs extra.
Both the iPhone 5s and Lumia 925 come in three different colors. The iPhone is available in white, gold and Space Gray on every major mobile carrier. The Lumia 925 comes in three different colors but T-Mobile and AT&T only carry one each. In T-Mobile's case that color is white. In AT&T's case that color is black. A third color borrows the light edges of the white Lumia 925 but switches out the rear for gray polycarbonate plastic.
The Lumia 925 also feels premium in the hand, though its plastic also feels misplaced when you pick it up. The top-mounted USB port also feels decidedly misplaced, but that's just personal taste on my account.
The only thing that truly boggles the mind is the rather tactless placement of the carrier branding on each of the Lumia 925 handsets in the United States. AT&T was a bit more conventional and has their logo to the right of the handset's front-facing earpiece. T-Mobile's logo is placed on the bottom of its version and completely ruins the premium look of the handset. Again, this is just personal preference, but having used the iPhone 5s and the HTC One and played with Google's Nexus 5, it completely takes away from the experience. It's as if you purchased a Rolex watch and Amazon decided to etch its logo on the watch's bezel because they shipped it directly to your door.
Read: Nokia Introduces Nokia Lumia 925
Camera
Nokia hasn't just taken the iPhone 5s to task with comparable design. At the rear of the Lumia 925 is a camera that harnesses all of the PureView imaging technology the company created as of last May. In this respect the iPhone 5s and Lumia 925 are also pretty evenly matched.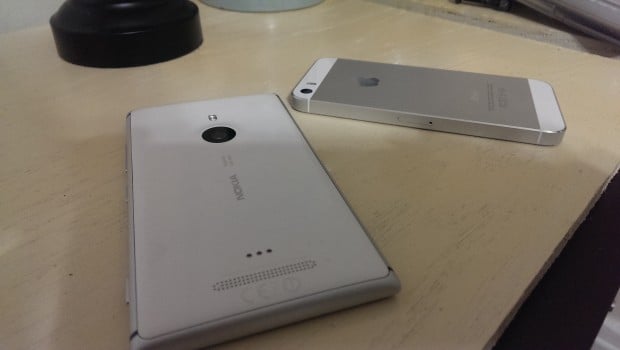 iPhone 5s
Apple iPhone users have long enjoyed a decent camera experience and the iPhone 5s is – anti-climatically — no exception.  The iPhone 5s includes a rear-facing 8 megapixel camera that's backed up by a new camera experience and two LED flash modules.
This new camera software allows iPhone 5s users to capture slow motion video and take pictures using HDR technology that offers a wider range of colors in each photo. That Apple has kept an 8 megapixel camera but made the sensor larger so that it captures even crisper shots is impressive.
To be frank, shots with the iPhone 5s are dynamic, colorful and detailed. No one is replacing their high-end DSLR with an iPhone 5s, but as owning a DSLR camera itself is pretty rare at this point, the iPhone 5s gets the job done.
Lumia 925
Since launching its PureView imaging technology a few years back, Nokia has been all about using camera technology to offer the best value to consumers. The Lumia 925 continues this. The floating lens technology and software algorithms that are a part of the PureView camera portfolio are all present in the Nokia Lumia 925.
Pictures taking with the 8.7-megapixel PureView camera in the Nokia Lumia 925 look just as good as the iPhone 5s, however the really cool software features that the camera grants users are tied into an array of different apps that are quickly multiplying almost into insanity. For example, the Windows Phone 8 operating system already includes a pretty decent camera app that records 1080p video and full high-quality images. That app also allows users to fire up different lenses to customize their photos.
The problem is that Nokia offers its own camera experience in addition to this. That lineup includes Nokia Camera, Nokia Smart Cam, Nokia Create Studio, Nokia Video Trimmer, Nokia Glam Me and Nokia Video Upload. To be fair, users can set a particular camera app as the default that opens when they push the device's camera button, however Nokia has some work to do if it hopes to simplify this experience. It's already combined two of the apps in the latest update that's still rolling out to users but it needs to do more.
Experience
There are those who would argue that comparing the Lumia 925 with the iPhone 5s isn't possible because they run two different operating systems and thus have different strengths and weaknesses.
On some level that's true, however they'e both smartphones vying for the same users. As such it's worth comparing the two.
iPhone 5s
The iPhone 5s is Apple's latest iPhone. In short, that means it comes equipped with all of the latest technologies and software available to the Apple users. Its Home button includes Apple's new Touch ID technology. Once a user has set it up, Touch ID will instantly unlock when it detects their fingers on the sensor/button. It also comes equipped with an amazing looking Retina display and an M7 Motion sensor co-processor.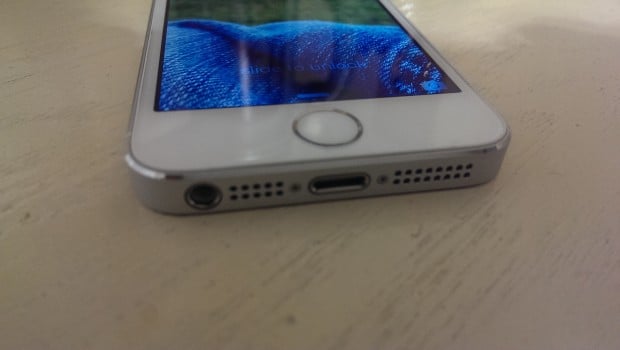 Of all the hardware features new to this device it's Touch ID that users will love the most. Not having to type in a pin code is very convenient and something that users will quickly appreciate after spending a few weeks with the device. On the other hand, the M7 motion Coprocessor that's included in the device doesn't yet do much to add the user experience beyond allowing Apple's Maps app to tell when a user is walking and when they need driving directions. The iPhone 5s also includes a 64-bit processor that boosts the device's processing power well past what previous iPhones were capable of. Of all the new hardware features it's that 64-bit processor that will effect day to day use the least. The device is faster than any iPhone before, but most apps still haven't been recoded to take advantage of it. Games do load quickly, so that's something.
iOS 7 is the default operating system on the iPhone 5s and it includes both a visual refresh and a ton of interesting features that make the software experience better. In addition to the aforementioned camera app with slow-motion video, there's also a new Control Center area for quickly accessing Bluetooth settings, tools and audio playback controls. There's also a slightly refreshed notification area that makes it crazy easy to get up to speed on any messages or alerts you received.
In everyday use, the breakout feature for the iPhone still continues to be Siri, the personal assistant that users access by holding down the home button. Using Siri to quickly get the date, play a song, open an app or research random topics is addicting and seamless. Siri is a treasure to use with headphones or with Bluetooth in the car. It's a serious differentiator.
How the iPhone 5s includes a silence button but no physical camera button seriously ruins a top-notch photo experience. Pressing the device's power button and then sliding the shade up to open the camera button still feels like a very clunky way to take a photo.
Finally, the iTunes App Store remains stocked as well stocked with the best apps available on any platform. There has been talk about apps not being a big deal anymore, but it's time to kill that theory. If apps matter to you, the iPhone is the place to be.
One big negative on the iPhone 5s is the relatively small screen size. The 4-inch high-definition Retina display in the iPhone is looks gorgeous but feels seriously cramped.
Lumia 925
Having borrowed some design flourishes from the iPhone 5, its important to note that Nokia's take on the metal design does include some flourishes that improve using it day to day.
As mentioned, any Windows Phone that has a rear-facing camera is required to include a physical camera button. That button alone makes the Lumia 925 and other Nokia phones equipped with PureView imaging technology stand above the iPhone 5s when it comes to photography.
There's simply no substitute for an actual dedicated camera button. Backing up that camera button is Nokia Camera, the combined Nokia Smart Camera app. It adds bracketing, burst shots and all sorts of flourish to the rather band Windows Phone camera experience. Setting it as the default camera app only takes a single settings change too. Other custom software additions like Nokia's Glance on-screen notification system, and Double Tap to Wake also make the Lumia 925 a worthy iPhone competitor.
There are three small dots that allow users to add a rear charging shell to the Lumia 925. Nokia's decision to not include it guaranteed the device's thin design.
This biggest liability for the Lumia 925 happens to be Windows Phone itself. To be clear, apps are plentiful and the platform's store has turned a corner. On the other hand, there are about 800,000 apps separating it and the iTunes App Store. Many of those might be garbage, however many of them are also useful and missed on Windows Phone.
Early on Microsoft limited the ability for device manufacturers to significantly alter the Windows Phone experience in anyway. More recently Nokia has supplemented the bare Windows Phone experience with tons of exclusive apps. In fact, it's added so many one-off apps to the Lumia 925 that it almost feels as if Nokia's simply padding the Lumia 925 with individual apps that could have been combined for a better experience. These apps can be removed, but why Nokia decided to include so many random apps is a mystery beyond all comprehension. For example, Here City Lens, Here Drive+, Here Maps and Here Transit are all separate apps that come preinstalled on the Lumia 925. Why not just make one Here app?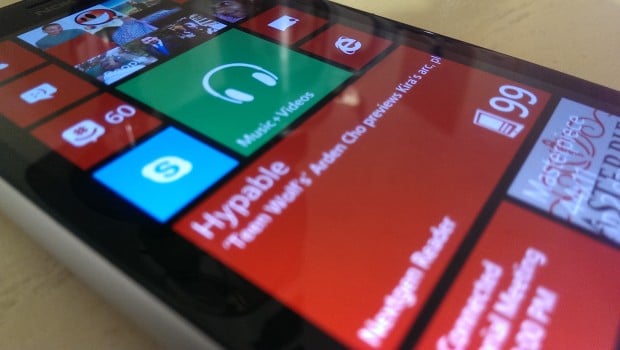 It's also worth noting that Windows Phone 8 is in dire need of some proper updates at this point. To be fair, Live Tiles, which act as both notification system and shortcut, are just as useful as they've ever been. So too is the People Hub that rolls in posts from Twitter, Facebook and LinkedIn. But those positives aside, app feature creep has really started to harm the whole integrated mantra Microsoft pioneered when it first introduced Windows Phone three years ago. For example, Facebook and Twitter now include so many features that the People Hub is no longer a suitable replacement for the Facebook experience. As such, only very casual users of those services will find that they don't need to download the native versions of those integrated social networks. The same is true of the built-in Music + Video hub in relation to Xbox Music and Xbox Video to a certain extent.
Windows Phone 8 does runs stunningly well on the dual-core processor that's included in the Lumia 925.
New smartphone buyers looking for a streamlined experience with a bigger screen, native integration with Microsoft services like OneDrive cloud storage, a capable camera experience and a free built-in copy of Microsoft Office will be impressed by the Lumia 925's software. That's true even if they'll be waiting a few more months for a big software update to add some more competitive features like the upcoming Siri personal assistant rival Cortana.
Battery life on the Lumia 925 was solid, though not completely as solid as the iPhone 5s. It also felt as if specific apps running in the background were seriously harming battery life. That's normal for any smartphone but iOS seems to handle battery hogging apps better than Windows Phone for now.
Conclusion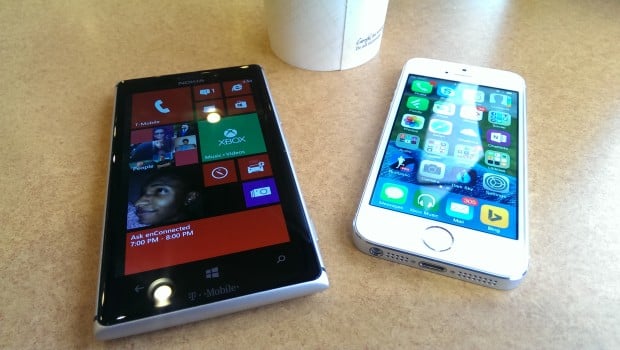 Both the Lumia 925 and iPhone 5s are seriously nice smartphones.
The Lumia 925 feels slightly less premium then the iPhone 5s, however it makes up for that slightly cheaper feel with wireless charging compatibility, a dedicated camera button, a larger screen and a decent operating system that's been modified by Nokia in a few key ways. For example, double tap wake is seriously useful. All of this is bogged down mainly by Windows Phone, which is seriously in need of updates. Thankfully, Lumia 925 buyers will get the upcoming Windows Phone 8.1 software update and more upgrades for the next two years.
That's not a problem that the iPhone 5s shares. Its fresh coat of paint and new options for accessing often-used settings are great to use, and it's also equipped with the world's premiere app store. That you can literally find an app for almost anything in the iTunes App Store simply can't be overlooked. Hardware wise, the iPhone 5s is really a decent phone too. Photos taken in low-light and practically any other condition turned out excellent on the iPhone 5s. The colors in the photos taken by the Lumia 925 can look a bit better to the untrained eye, but really they're comparable. Looking at those photos isn't, as the iPhone 5s' screen is feels really cramped in most apps.
In this case, the iPhone 5s is the better phone for users by just a small margin. Really, the Touch ID fingerprint reader and slightly improved camera aren't mind blowing, but the Siri voice assistant is and all of these features together add up to a really robust experience. Maybe future software updates to the Lumia 925 will help it inch past it at some point in the near future, but for now, the iPhone 5s wins the race.